Email Not Displaying? Click Here

Thursday, June 18, 2020
Thursday, how are we?! A reminder that we're now officially one week away from my birthday, just in case you're trying to get those presents delivered in time. I like fancy gadgets, cool hats and three-bedroom houses, if anyone's asking.
In these trying times, it's extremely comforting to have normalcy creep back into our daily lives, so getting to watch my beloved Arsenal soil themselves against a top-tier opponent in embarrassing fashion was just what the doctor ordered yesterday. David Luiz deserves all the credit in the world for helping nature heal.
Anywho, we've got more sports getting underway today, including Round 1 of the RBC Heritage on the PGA Tour, so strap yourself in. On top of that, I've brought a nice collection of news and info, so let's get down to business.
📰 What you need to know
1. MLB, MLBPA make progress in labor negotiations ⚾️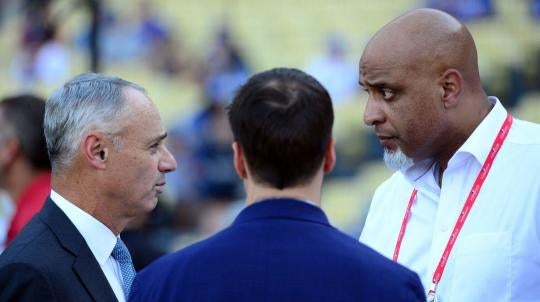 One of the most annoying things about the ongoing baseball labor standoff is how much of a roller coaster ride it's been, especially lately. Just when it looks like we may be making progress towards an MLB season, things go wrong. And when it looks like all hope is lost, suddenly we get a nugget of hope to keep us hanging on.
Our latest example of that came yesterday. We woke up believing that MLB was moving closer toward a full season cancellation (yesterday's newsletter even discussed what repercussions that would have for the future of the league) but then we got hit with some surprise progress on Wednesday. In fact, there was a brief window yesterday afternoon in which we were tricked into believing that the two sides HAD REACHED A DEAL.
That ultimately turned out to not be true, but there was reportedly movement in the right direction.
MLB commissioner Rob Manfred and MLBPA boss Tony Clark met face-to-face in Phoenix on Tuesday at Manfred's request
Owners made a new proposal following that meeting and it includes paying players their full prorated salaries
Players reportedly agreed to not file a grievance against MLB over a shortened season
The proposal also reportedly includes an expansion of the playoffs from 10 teams to 16 teams for 2020 and 2021. There would also be a universal DH in the AL & NL for 2020 and 2021
It's also been reported that, under the current proposal offered by MLB, the season would be for 60-something games, with Opening Day coming sometime around July 19-20th.
It seems like we could be on the path to a resolution if the league is willing to pay players their full prorated salaries based on number of games played and, in return, the players don't seek action against the league. But it should also be noted that nothing is finalized and the two sides still have some work to do.
Given the way things have been going over the past couple months, it seems fair to be cautious about any optimism you may be feeling right now. But if you want to ignore my warning and get excited anyway, our Matt Snyder has a good piece highlighting six reasons to embrace the weirdness of a short season.
2. Some NFL coaches reportedly want season delayed after Cowboys, Texans coronavirus cases 🏈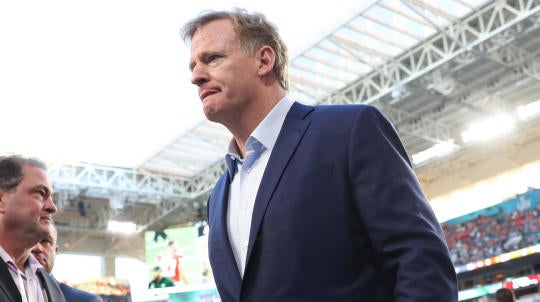 Several players on the Cowboys and Texans tested positive for coronavirus earlier this week, something that honestly seemed somewhat inevitable given the spike in cases in southern states that have re-opened rather quickly, such as Texas.
Despite the fact that those cases were reportedly caught with precautionary measures and kept outside of team facilities, some coaches were spooked by the news.
According to a report from ESPN's Ed Werder, multiple NFL coaches have shown increased concern following the latest COVID-19 scare
At least one coach wants the season delayed while another has questioned the idea of trying to play a full schedule with the pandemic still going on
NFL commissioner Roger Goodell: "So, positive tests are going to happen. The issue is, can we obviously prevent as many of those from happening, but in addition, treat them quickly, isolate them and prevent them from directly impacting our player personnel."
It seems as though it's just a few coaches openly expressing concern right now, but perhaps more will voice their hesitations in the coming weeks -- especially if more players test positive. Regardless, Goodell doesn't seem overly worried about the season being in jeopardy.
It seems unlikely that the NFL would consider delaying the start of the season unless absolutely, undeniably necessary. The league has been pretty adamant about sticking to a regular schedule -- they made their offseason events fully virtual in order to stay on a regular timeline, and they're cutting the number of preseason games from four to two in order to take more time to prepare for the start of the regular season. It doesn't seem like they want to deviate from that Week 1 start date at all.
But when you think about it, would it be the worst thing in the world if the start of the NFL season was delayed a little bit? Probably not, especially considering several sports are likely going to be playing through September, including the NHL, NBA, and possibly MLB. Plus, you've got the PGA Tour and horse racing events in the fall, too.
Maybe pushing football back would help keep a manageable balance.
Don't count on it, though, especially with the impending threat of a second COVID-19 wave looming in the fall.
3. NCAA approves calendar to start 2020 college football season on time 🏈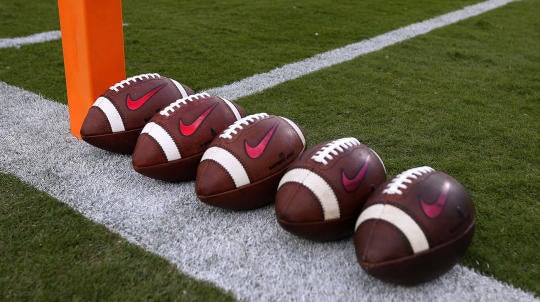 Speaking of football seasons trying to start on time... let's welcome the NCAA to the party, shall we?
Yesterday brought some pretty big news in the world of college football as the NCAA Council approved a six-week calendar that aims to start the 2020 season on time. That plan includes four phases and shoots for team activities to begin in mid-July.
Here's a look at the approved schedule:
June 1-25: Voluntary workouts. This also includes virtual non-physical activities
July 13 onward: Team workouts. This will comprise of weight training, conditioning drills and film review
July 24 onward: Walkthroughs. Teams will be able to hold walkthroughs and meetings for up to 20 hours per week
August 7 onward: Practice. We're talkin' 'bout (preseason) practice
With regards to coronavirus testing, those guidelines and protocols remain largely up to individual conferences, so we'll have to keep monitoring what sort of practices and preventative measures conferences/teams put in place once action starts picking up next month.
That being said, teams will be required to practice for four weeks before playing their first game. Though it's certainly a positive that the NCAA is intending to start the season on time, it feels as though we're not necessarily in the clear yet. We could see some complications if separate conferences run into issues and teams aren't able to stick to the same timelines.
I'm desperately trying to believe that a college football season will carry on without a hitch this year, but with so many teams and so many kids being stationed on college campuses across the country, it feels as though it'll be a miracle if things run 100% smoothly.
4. Predicting when rookie QBs will get their first starts 🏈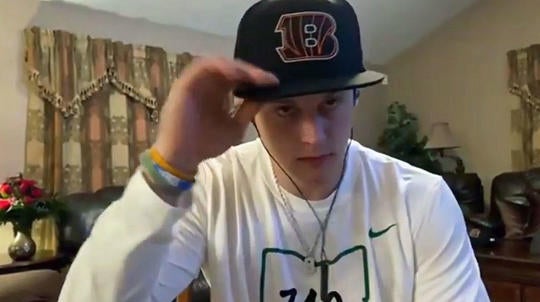 This NFL season is going to be a verrrry interesting one with regards to quarterbacks. There was so much QB changeover this offseason so we have to brace for seeing plenty of old faces in new places, including Tom Brady in Tampa, Philip Rivers in Indy, Teddy Bridgewater in Carolina and Tyrod Taylor in Los Angeles.
But this year's quarterback class was also pretty stacked at the top, which means that we could also see plenty of new faces at the QB position this year. The question is, exactly when are are we going to see those fresh faces?
It can be impossible to know when an incoming QB will get his first real shot -- sometimes it can take years -- but that doesn't mean we can't try to guess, right? Let's find out what the one and only Jason La Canfora thinks. JLC has put together a list of the top rookie QBs and when they'll get their first chance to start.
Joe Burrow: Week 1. The Bengals want Burrow to take over their offense and establish himself as their franchise quarterback immediately. They parted ways with Andy Dalton and this team is now solidly in the hands of Burrow. The only way he doesn't start Week 1 is if there's an injury
Tua Tagovailoa: Week 13. Tua is still making his way back from injury and there's no real reason to rush him. The Dolphins probably aren't going to be contending right away and they have a dependable veteran in Ryan Fitzpatrick to lean on out of the gate. But if Fitz starts to lose steam (as he often does), a post-bye Week 13 matchup against Burrow's Bengals in Miami could be a nice premiere for Tua
Justin Herbert: Week 1 (2021). The Chargers seem committed to Tyrod Taylor as their QB, at least to start this season. Maybe Herbert will eventually slide in if Taylor is ineffective or gets hurt, but JLC thinks he's going to have a good season in LA. That means Herbert may have to sit on the bench for the entire season before truly starting his career next season
Jordan Love, Week 1 (2022): Just like Aaron Rodgers before him, Jordan Love may have to wait a couple of years before being handed the reigns in Green Bay. Rodgers is still a very good QB and he's under contract through 2021. Maybe the awkwardness comes to a head and Rodgers' exit gets expedited, but the most likely scenario is him playing out his contract and then moving on
Jalen Hurts, Week 1 (2022): JLC believes Hurts will see the field much sooner than 2022, just not in a starting role. He's a dynamic, athletic weapon that can contribute in a variety of ways, even if it's in an ancillary role. However, La Canfora believes the QB will get his first true shot as signal-caller in 2022... and it won't be with the Eagles
Okay, those are the big names... but does anyone wanna venture to guess which lesser-known, later-round QB will unexpectedly burst onto the NFL scene this year? Last year we had Gardner Minshew seize his opportunity in Jacksonville, so who will it be this year? And will he be able to pull of a mustache and jorts as well as Minshew? Seems unlikely.
📝 Odds & Ends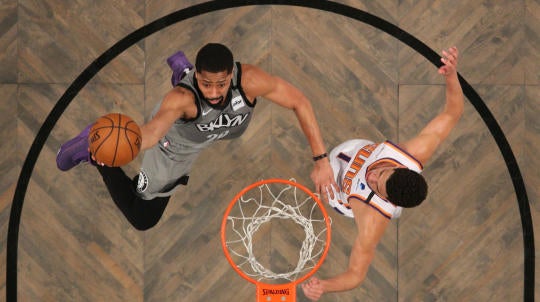 Our James Herbert has a great profile of Spencer Dinwiddie, who is an expert NBA shape-shifter still looking to rise up the ranks
American track star Christian Coleman, who is the world's fastest 100-meter runner, has been suspended for repeatedly missing drug tests
UNLV has removed Hey Reb! statue from its campus and will make changes to their mascot due to its Confederate roots
Need some fantasy football prep? Here are your 2020 breakout candidates
Pavel Datsyuk's agent denies that the ex-NHL star is holed up with a coronavirus-denying priest in an annexed Russian monastery. Alright then
Seattle's NHL expansion team is delaying its naming announcement until at least the fall in order to avoid looking "tone deaf"
 

24/7 Sports News Network

 

Golf Props

Sports news without the yelling and fake debates. Stream CBS Sports HQ for nonstop highlights, analysis and picks. Watch for free on all of your devices.
Learn More


 

Play along with this week's golf action and compete to win $1,000 each round with CBS Sports Golf Props. All you need to do is answer a few quick questions and you're in contention for the cash! Join any round for your chance to win.
Play Now

| | | | |
| --- | --- | --- | --- |
| FOLLOW CBS SPORTS | | | |