Today's TV Recipe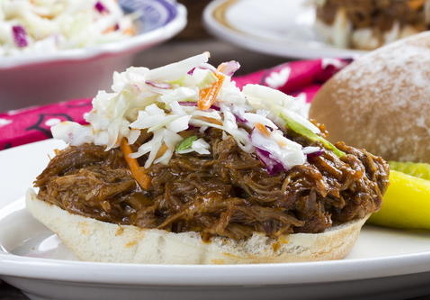 Uncle Sam's Pulled Pork
Here's a recipe that's anything but taxing! Uncle Sam's Pulled Pork is a budget-friendly, weeknight winner. In this recipe, we slow cook boneless pork butt to perfection with some chopped onions and a can of cola. A little BBQ sauce and it's ready to go! Just pile it onto a roll along with some of our homemade coleslaw and you're set for lots of "yum!"


 

Greatest Deli Salads




Of All Time

Award-Winning Potato Salad - Here in the Test Kitchen, we know that the real judges of a tasty dish are our friends and family, so when we first ...more
Cauliflower & Broccoli Salad - When summertime comes around, you're looking for something fresh and new; a break from those traditional deli salads ...more
Spring's Best Slaw - This is the perfect coleslaw recipe to bring to a family shindig or backyard bash, 'cause it goes along with everything! Spring's ...more
Perfect Egg Salad - This is the perfect egg salad to eat as-is, to top a green salad, or to make into a sandwich. The celery and onion give it a ...more
Kitchen Sink Macaroni Salad - It's a picnic any time you serve our Kitchen Sink Macaroni Salad! Chock full of so many flavors, textures, and colors, it's a ...more
Sweet Pickle Slaw - The next time you go out to the store to pick up a jar of pickles, we recommend picking up two! One for snacking on, and one for this ...more
No-Bake Baked Potato Salad - This twist on traditional potato salad has all the taste of a loaded baked potato, minus the baking part. Enjoy our ...more
Zesty Chicken Pasta Salad - There's so much you can do with rotisserie chicken! This is a light and easy way to feature it in a fresh-tasting pasta salad ...more
Country Coleslaw - Good old-fashioned coleslaw is great any time of the year and goes along with almost any dish. When we're craving that creamy dish ...more

[Hey, don't keep these great deli salads all to yourself! Forward this email to your friends and family, so they can dig in as well. And send them this link, so they can subscribe to our newsletters!]

Crisp Cucumber Salad - Enjoy the fresh tastes of a homemade cucumber salad with our recipe for Crisp Cucumber Salad. It's got a touch of sweetness ...more
Apple Bacon Colelsaw - They say an apple a day keeps the doctor away, but it also adds a whole new twist to one of our long-time favorites! Between ...more
Southwestern Macaroni Salad - Step out of the box with this pasta salad recipe that's full of authentic Southwestern flavors. This recipe has just the ...more
Hawaiian Colelsaw - If you bring this coleslaw to the next family gathering, watch out! From then on, they'll ask you to bring tropical Hawaiian Coleslaw ...more
Special Chicken Salad - When we first saw this recipe in Palm Springs, California, we didn't think we'd like the combination, but then we tried it and ...more
Secret Ingredient Potato Salad - For a change of pace from ordinary potato salad, give our recipe for Secret Ingredient Potato Salad a try. This red ...more
Berry Grape Chicken Salad - Brighten up your lunchtime with this Berry Grape Chicken Salad! It's a super simple recipe that starts with pre-cooked ...more
Our Most Divine Deli Salad - Winter, summer, fall or spring: deli salads are delightful year-round. And there's never a shortage of deli-style salads ...more
Where Are You
Picnicking?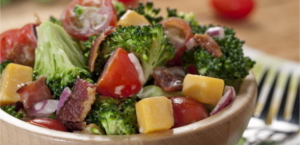 The sun is beginning to peek out from the clouds, and that means picnic weather will soon be upon us! With all the natural beauty of spring blooming before your very eyes, there are tons of places to picnic. Where are you going to grab a bite of something absolutely spring delicious?
A Gorgeous Garden
A Pretty Park
The Beautiful Beach
Our Blissful Backyard
The Charming Church Picnic
The Lovely Lake
A Magical Meadow
We're Eating Inside, Thanks!
How Are You Feeling?
Recipes to Match Your Mood!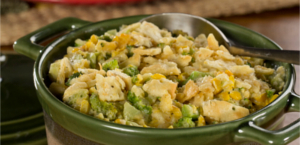 I'm Feeling So-So

I'm Nervous About Things

I'm Excited for What's Coming

I'm a Little Stressed

I'm Feeling Relaxed

I'm Quite Angry

I'm Beyond Happy

I'm in Love

I'm a Bit Sad

I'm Motivated!
This email was requested by: youssef.zawi.7@y0up0rn.cf Was this email forwarded to you? Subscribe here.
Unsubscribe, Modify or Add Newsletters: Click here.
Request information about advertising in this eNewsletter: Click here.

To ensure delivery of this newsletter to your inbox and to enable images to load in future mailings, please add mail@mrfood.com to your e-mail address book or safe senders list.

Mr. Food Recipe eNewsletter is published by Ginsburg Enterprises Incorporated and Prime Publishing, LLC.

This e-mail was sent by: Prime Publishing LLC
3400 Dundee Road
Northbrook, IL 60062
United States of America
Copyright © 2018 Prime Publishing LLC. All Rights Reserved.

MR. FOOD TEST KITCHEN, the "Mr. Food Test Kitchen" oval, and OOH IT'S SO GOOD!! are trademarks or registered trademarks of Ginsburg Enterprises Incorporated. © 2018 by Ginsburg Enterprises Incorporated. All rights reserved.

Privacy Policy. By using this site you agree to our Terms of Service.
To learn about our email partners' privacy policies, click here.