Email Not Displaying? Click Here

Friday, July 3, 2020
Congrats on making it to Friday... and here's to hoping you've got a long holiday weekend to celebrate. It feels a little strange not having any big plans for the Fourth this year but, hey, it falls pretty far down the list of the strange things in 2020, right? At this point, I feel fortunate enough to even be concerned with weekend plans.
I'm sure I'll find my way, whether it's via some distance-appropriate backyard beers or spending hours on the Warzone machine (find me on Twitch if you've got nothing else going on). Also, I might see what that whole "Hamilton" thing is all about this weekend, even though I'm a little scared to be the guy who falls in love with "Hamilton" in 2020.
Whatever route you choose over the coming days, here's to hoping you crush it and have a great time. Stay safe and stay smart... I'm gonna need you back here with me this time again on Monday (maybe Tuesday, depending on how bad my hangover gets). We've been hanging out for about six months now, and we've plenty more good times ahead. Don't you forget that.
So, what do you need to know heading into the weekend? So glad you asked!
📰 What you need to know
1. Dan Snyder may have to change Redskins name 🏈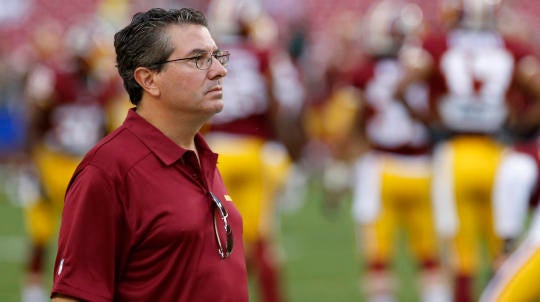 The offensiveness of the Washington Redskins' team name has been discussed and debated for many years at this point, but through it all the team's ownership -- specifically Dan Snyder -- has resisted the idea of changing it.
The topic of racial injustice has been in the front of the nation's conscience since George Floyd's murder in May, and as a result the Redskins have again found themselves in the crosshairs of social reform. This week has brought immense mounting pressure on the team to make a change and we may soon hit a boiling point thanks to some major developments reported yesterday.
Investors are pushing corporations like Nike, FedEx and PepsiCo to cut their ties to Washington if the organization doesn't change the team name
87 investment firms worth a combined a $620 billion wrote to the team asking for a switch
Nike has pulled all official Redskins team gear from their website
Several federal officials said Thursday that Snyder would have to change the team's name if he wants to relocate the franchise to the site of RFK Stadium
The RFK campus, which is owned by the federal government, is currently for sale and Snyder is interested in moving the team back to D.C. The government could force Snyder to change the name before agreeing to sell him the land
D.C. Deputy Mayor John Falcicchio: "There is no viable path, locally or federally, for the Washington football team to return to Washington, D.C., without first changing the team name"
FedEx being part of the corporate blitz is noteworthy because they own the naming rights to Washington's current stadium. FedEx's CEO, Frederick Smith, is also part owner of the team.
So, what happens now? Well, Snyder has a decision to make, and he may be backed into a corner here. There's more pressure on him than ever, and if he wants to move the team and secure a new stadium in D.C. he may have to relent on his defenses of the name -- especially with corporate and political forces at his neck.
Though Snyder has shown a complete unwillingness to move away from the moniker, the club has taken steps to wash themselves of a problematic past. Earlier this summer, they agreed to remove George Preston Marshall's name from all official team material and from the organization's Ring of Honor. Marshall was the team's founding owner but his legacy is stained with a clear history of racism and he was a staunch opponent of desegregation.
In other social movements on the NFL front, the league is planning to play the Black national anthem "Lift Ev'ry Voice and Sing" before the "Star Spangled Banner" at every Week 1 game this season. The league is also considering memorializing victims of police brutality with helmet decals or jersey patches as well.
2. What would be the most chaotic NHL Draft Lottery outcome? 🏒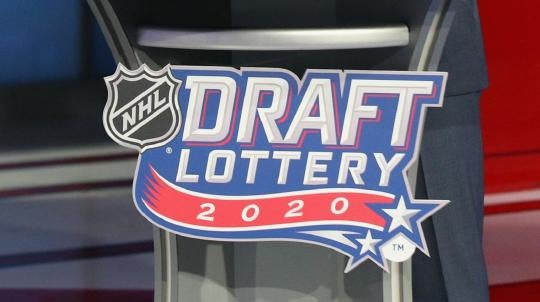 We're officially one week removed from the first stage of the NHL's Draft Lottery and if you're still trying to process the whole thing, join the club. With the pandemic cutting the regular season short and spawning an expanded 24-team playoff format, the NHL decided to tweak the lottery format this year.
It's all a bit confusing (the NHL loves to get unnecessarily silly whenever it can) but what you need to know is this: Last week's initial lottery stage brought the most chaotic outcome possible... an unknown placeholder team winning the first overall pick in the draft.
We won't know what team will earn the right to draft Alexis Lafreniere -- this year's consensus top pick -- until eight teams are eliminated from the postseason play-in round. Those eight teams will all be entered into Stage 2 of the lottery, where they'll all have equal odds (12.5%) of winning the rights to that No. 1 pick.
Right now, there are 16 teams that could potentially end up at the top of the board, so which clubs would cause the most additional chaos if they were to land the top pick? I decided to rank all of them, so here are three teams I think would spark the most upheaval:
Penguins: Pittsburgh was one of the better teams in the league this year despite many huge injury setbacks. They had the seventh-best regular season point percentage in the league, so if they end up picking first it'll be a case of the rich getting richer. And adding Lafreniere alongside Sidney Crosby and Evgeni Malkin could help expand the Penguins' current Cup window by a good margin
Maple Leafs: They've got an incredible offensive core in Toronto already but they're tight against the cap and still have concerning holes on the back end. Winning the lottery would be a golden ticket for the Leafs in that it would allow the team to plug in Lafreniere (at minimal cost) and trade one of those core pieces to address needs elsewhere. It would be a pure stroke of blind luck after a horribly disappointing season
Coyotes: "Lottery ball specialist" Taylor Hall helping ANOTHER team win the top overall pick would be one wild story. Hall, who was a first overall pick himself, has been on the roster of four lottery-winning teams (Edmonton twice and New Jersey twice) since entering the league in 2010. If he does it again, there's some sort of black magic going on here
I've designated the other 11 teams at lower chaos levels but there are still some very intriguing options in that group, so you can check out my thoughts on them right here.
Ultimately, and I hate to say it this as a Bruins fan, but... I think the best story/natural fit for Lafreniere would be the Montreal Canadiens. They're the lowest-ranked team in the running, they need need an offensive superstar, and he's a Quebec-born kid who would be at the center of a rebuilding effort in Montreal.
But if we've learned anything about the NHL and this whole draft lottery process, it's that things that make sense are completely overrated. Let chaos reign.
3. The best NFL player to wear each number 🏈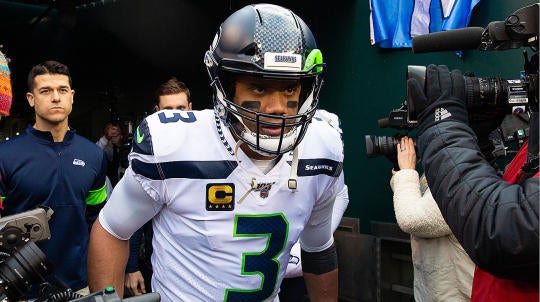 What's in a number? For sports and athletes, sometimes it's a whole lot. Whether or not they'll admit it, numbers are often very important to athletes. They can hold sentimental meaning. They can be a brand. Or maybe they just like the way they look in certain digits. Either way, if athletes didn't care, they wouldn't trade cash and expensive gifts in exchange for jersey rights.
And when you think about it, often times a great player can become synonymous with a number. Legendary players can legitimize a number, make it iconic and give it staying power for years to come. Think about how many young basketball players Michael Jordan inspired to wear No. 23. Now some of those players are going to inspire future generations, and so on and so on.
So, yeah... numbers are important.
Our NFL writer Josh Edwards decided to run a fun exercise this week, exploring the best player to wear each jersey number in NFL history. Going 00-99 and picking the best player for each number is not a task for the faint of heart, but Josh got it done and he's fully ready to hear complaints about why your favorite player deserved to represent his jersey number.
Also, six active players made the cut as the best to ever don their digits, and they all come pretty early on in the list:
No. 2: Matt Ryan
No. 3: Russell Wilson
No. 9: Drew Brees
No. 11: Larry Fitzgerald
No. 12: Tom Brady
No. 17: Philip Rivers
Personally, I think one of the most impressive things in sports is when a player can take a traditionally "ugly" number and make it cool. Changing the way the general public perceives a number based simply on your own athletic prowess is an incredible challenge, but it's one that a lot of players have accomplished. Robert Parish with No. 00. Jackie Robinson with No. 42. Barry Zito with No. 75. Sidney Crosby with No. 87.
Also, as an exercise to find out how you perceive me: What two numbers do you think I wore in sports when I was still young and full of life? I'll give you a shoutout on Monday if you nail it.
4. What to bet on this weekend 💵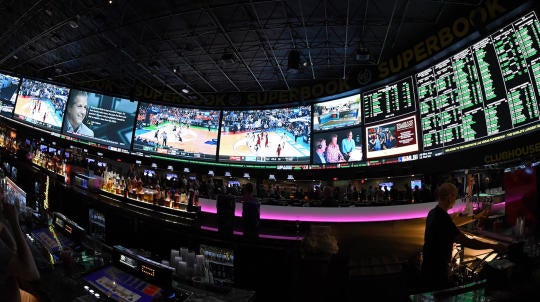 Friday means it's time to break out those wallets, put our heads together and figure out what sports we're betting on this weekend. That's right... it's time for another gambling corner, and we've got some good stuff coming over the next few days so let's discuss the best plays.
Horse racing : Belmont is hosting the Met Mile on Saturday and that presents another opportunity for us to cash in on the ponies. It's shaping up to be one of the better races of the year so far, with the Bob Baffert-trained McKinzie clocking in as the 2-1 favorite in an elite field of eight. But here's a little tip for you: Good ol' Hammerin' Hank Goldberg is NOT feeling McKinzie this weekend. He doesn't have him in his projected top four and he won't be using him on any tickets. For Hank's full breakdown of picks, SportsLine has you covered.
NASCAR: It's the Big Machine Hand Sanitizer 400 at Indianapolis Motor Speedway on Sunday, and Mike McClure has been crushing it with his projection model lately. Before you lock in your picks, you may want to consult McClure's projected top 10. Just between us, he's got Kevin Harvick at the top this weekend.
If that doesn't strike your fancy, you can always bet on the Nathan's Hot Dog Eating Contest, which will still be held as a holiday tradition for the 4th of July tomorrow. Of course, if you bet on anyone other than Joey Chestnut, you're basically just flushing your money down the toilet.
Although, had I known this thing was still happening this year, I may have signed up. Shoving hot dogs into my face has been one of my primary quarantine activities over the past few months.
📝 Odds & Ends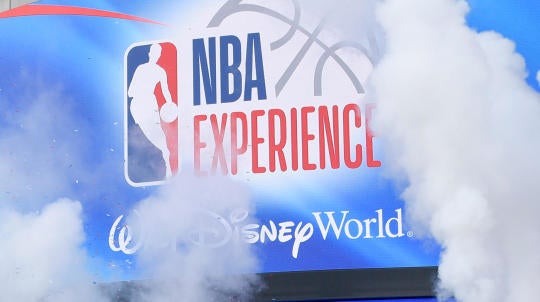 The NBA has given us our first look inside the Disney bubble, and teams are sending their own courts down to Florida to be set up inside a ballroom at the Coronado Springs Convention Center
The eight teams that weren't invited to the NBA's restart at Disney may get their own bubble in Chicago for the purpose of training and working out
Philadelphia Flyers forward Oskar Lindblom, who was diagnosed with bone cancer late last year, finished his chemotherapy treatments this week
What do elite high school football players do if the season is flipped to the spring?
 

NWSL Challenge Cup

 

PGA Tour on CBS

The National Women's Soccer League is back in action this weekend. Stream every game of the 2020 Challenge Cup live with CBS All Access.
Learn More


 

Stream the 2020 Rocket Mortgage Classic this Saturday and Sunday at 3:00 PM ET for free on CBSSports.com and the CBS Sports App!
Learn More

| | | | |
| --- | --- | --- | --- |
| FOLLOW CBS SPORTS | | | |