Email Not Displaying? Click Here

Wednesday, July 15, 2020
Well, well, well... look who it is! Fancy seeing you here!
That's right, I'm back from vacation in glorious Portland, Maine and you'll be absolutely shocked to hear that my body is still attempting (and largely failing) to recover from what was essentially a four-day food and beer bender. Not a single regret, though.
As sad as I am to be away from my favorite place on earth, I'm glad to have you back in my life and very excited to be starting my days with you once again. A big thank you goes out to Shanna McCarriston for holding it down and keeping you informed while I was away.
Not only is today our reunion but it's also a pretty big sports day and a Wednesday -- which means MAILBAG DAY! I got some great questions about Portland so we'll get to some of those vacation questions at the end of the newsletter. But before that we've got plenty of good sports stuff to discuss, so let's have some fun.
Come on... just admit it. You missed me a little.
📰 What you need to know
1. How a 60-game MLB season will change the way we look at stats ⚾️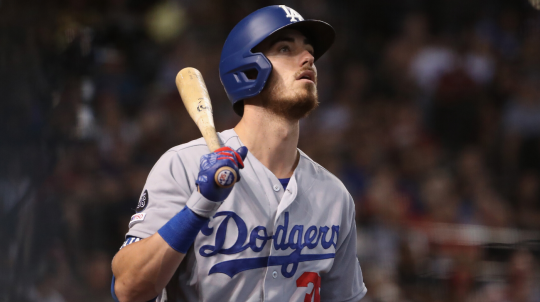 As we grow ever closer to Opening Day of the 2020 MLB season -- something I still can't believe is actually happening, all things considered -- it's important to take some time to think about the oddities that will come with a 60-game season. Maybe you've thought about it, but have you really thought about it?
When you chop more than 100 games off a regular schedule, it's obvious that the stakes are raised and every game will carry more weight, but it also means that every hit, every dinger, every run batted in, every strikeout will carry more meaning too. When you dive into what the statistical benchmarks might be this year, it sort of provides context for just how bizarre the campaign will end up looking.
Our Mike Axisa took an in-depth look at the statistical recalibration that is necessary with a shortened season and what numbers might constitute a "good" season. He found that 15 homers and 40 RBI could be MVP numbers this year. How ridiculous!
Some other notable adjustments:
20 HR would equate to a 50+ homer pace in a regular season: Only four players have hit 20 HRs in their team's first 60 games the last three years: Aaron Judge (21) in 2017 and Christian Yelich (22), Cody Bellinger (20) and Pete Alonso (20) in 2019
37 RBI would equate to a 100-RBI pace: The last player to average over an RBI per game through 60 games was Miguel Cabrera (67) in 2013. Nolan Arenado and Josh Bell each had 54 RBI through 60 games last year
74 hits equals a 200-hit pace: Only two players reached 200 hits last year (Rafael Devers and Whit Merrifield) but 22 players have had at least 74 hits in their first 60 games from 2017-2019
Seven wins is the equivalent to both 18 wins and 20 wins because of rounding: In a 60-game season, a pitcher in a five-man rotation can expect to make 12 starts max, so seven wins is a major accomplishment. But if wins don't do it for you as a pitcher's stat, 111 strikeouts would equate to 300 Ks and 74 innings pitched would be like 200 IP
A 1.9 WAR would be like a 5.0 WAR: Things are a bit dicier when you get into the analytics with a shortened season (sample size is key) so it'll be interesting to see just how much WAR is considered when it comes to end-of-season voting for awards like MVP
These benchmarks are super weird to look at, aren't they? There's something so clean and satisfying about a hitter posting 30 & 100 or reaching 200 hits; now we gotta talk about them posting 11 & 37 or going for 74 hits? Not exactly the same.
Then again, we can try to draw all the comparisons and equivalents we want but there's probably a million different reasons why this campaign will probably have to stand on its own away from a "regular" season at the end of the day. There are just too many odd circumstances at play so maybe it's just better for us to embrace the anomaly.
I'd be lying if I said I wasn't rooting for some mid-tier player to go absolutely OFF in a 60-game stretch before winning an MVP award he'd normally have no chance of winning. You can do it, Brock Holt! (If you want some real advice on safe/risky bets for awards, feel free to check out this breakdown from our Danny Vietti.)
2. The QBs of the 2021 NFL Draft Class 🏈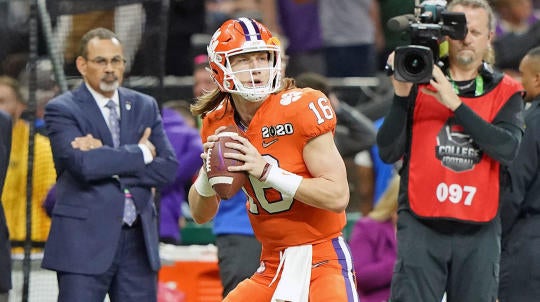 How early is too early to start talking about the 2021 NFL Draft? Well, considering that my football friends at CBS Sports posted a 2021 mock draft immediately after the conclusion of the 2020 NFL Draft, I think it's safe for us to look ahead for a bit.
And since the NFL is very much a quarterback's league these days, that seems like a good place to keep our eyes trained for the time being. We're coming off a very QB-heavy draft class this year (at least at the top) so what should we expect in 2021?
Well, there's plenty up in the air right now -- especially since we don't even know if there will be a college football season this year -- but we know that Trevor Lawrence is the name at the top of the board right now. The Clemson standout has already put together a great college career and is currently projected to not only be the first QB drafted in the class but perhaps the top overall pick as well.
But there are plenty of other prospects behind Lawrence that will be looking to juice their draft stock this year and anything can happen over the coming months (and, considering it's 2020, I mean literally anything can happen). So, let's get acquainted with the guys that could be in the first-round QB conversation. Our Ryan Wilson has you covered with this list of notables:
Trevor Lawrence, Clemson (junior): Again, we know him already. He's a stud. He's led the Tigers to the national title game in each of his two seasons as starter, including winning the natty as a true freshman.There aren't many holes in his game and, barring a major disaster on the field this year, he'll be the first QB off the board in 2021
Justin Fields, Ohio State (junior): After transferring from Georgia, Fields had an incredible first season at OSU. He threw for 3,273 yards and 41 touchdowns against three interceptions while completing 67 percent of his throws. He also ran for 484 yards and 10 TDs, and that kind of dual-threat production doesn't go unnoticed
Trey Lance, North Dakota State (redshirt sophomore): Carson Wentz and Easton Stick have proven that QBs from the FCS North Dakota State shouldn't be overlooked, but Lance will have to put up gaudy numbers to help offset the quality of competition factor. Last year he did himself a lot of favors by completing 66.9 percent of his passes and throwing for 28 touchdowns against ZERO interceptions.Wilson says there's a lot of Jordan Love in Lance's game and, though he's still a little raw, the NDSU QB might actually be the better prospect
Kyle Trask, Florida (senior): He's not flashy and he doesn't have a ton of experience to his name but he's steady and efficient -- something that NFL teams may value enough to consider him a first-round pick. He'll have to finish strong with the Gators to make that jump though
Jamie Newman, Georgia (grad transfer): Newman comes to UGA from Wake Forest and he'll have an opportunity to replace Jake Fromm as starter. Newman has lots of talent and athleticism but he doesn't have a lot of experience and he's accuracy leaves a little to be desired. He'll have to showcase a sharpened skillset and some improved decision making if he wants to make a big leap
Those are the handful of guys that are leading the pack right now but there are bunch of other names discussed by Wilson as well, including Brock Purdy (Iowa State), Tanner Morgan (Minnesota), my guy Sam Ehlinger (Texas) and more.
Keeping tabs on rising/falling draft stocks is always interesting, and a whole lot can change over the course of a single season. Remember, this time last year you probably would have bet the house on Tua Tagovailoa going first but then Tua got hurt and Joe Burrow had one of the best QB seasons in the history of college football. Sometimes you just never know.
Throw in the added mystery dynamic that comes with trying to play a college football season in the middle of a pandemic and who the heck knows what we might be looking at for a draft board in the spring.
3. Redrafting the 2018 NBA Draft 🏀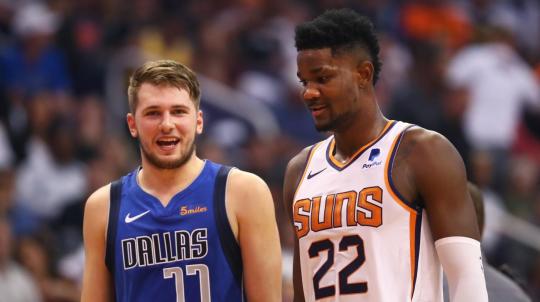 We all screw up from time to time. It just happens... that's life. Do some of us screw up more than others? Yeah, maybe. Sorry I'm not perfect!
But those mistakes can be a little tougher to swallow when they're made by your favorite team's general manager and they cost you, the fan, years of getting to watch a star player develop and represent the organization. Perhaps the "redrafting" exercise is just a way to further punish fans and remind them of what could have been if their GM had more foresight, but it's an interesting exercise nonetheless.
This week, our Kyle Boone analyzed the 2018 NBA Draft and redrafted the class based on where players should have gone knowing what we know now.
Here's how the new top 10 shakes out:
Suns: Luka Doncic (Actual pick: Deandre Ayton)
Kings: Jaren Jackson Jr. (Actual pick: Marvin Bagley III)
Hawks: Trae Young (Actual pick: Luka Doncic, traded to DAL)
Grizzlies: Shai Gilgeous-Alexander (Actual pick: Jaren Jackson Jr.)
Mavericks: Deandre Ayton (Actual pick: Trae Young, traded to ATL)
Magic: Michael Porter Jr. (Actual pick: Mo Bamba)
Bulls: Mitchell Robinson (Actual pick: Wendell Carter Jr.)
Cavaliers: Devonte' Graham (Actual pick: Collin Sexton)
Knicks: Donte DiVincenzo (Actual pick: Kevin Knox)
76ers: Mikal Bridges (Actual pick: Mikal Bridges, traded to PHX)
You can check out the rest of the first round (as well as Boone's reasoning for shifting things around the way that he did) right here. But it's important to remember that hindsight is 20/20 and draft night wouldn't nearly be as much fun if everyone knew how things were going to work out.
Plus, sometimes a team needs an ol' "whoopsie doopsie" to keep them humble... and other times it's pretty much just expected.
4. Wednesday Gambling Corner 💵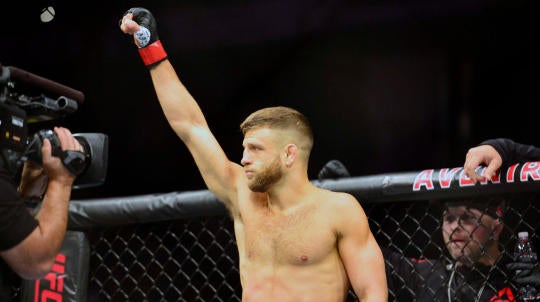 I'm sorry that I didn't stick around for our usual Friday gambling corner last week but I'm going to make up for it here. I've got a special Wednesday gambling corner! While that might seem a little crazy and unheard of around these parts, today isn't your ordinary Wednesday.
We've got quite a bit of action on the books today, so let's take a look at what we can play (plus some picks for you):
UFC Fight Night: Kattar vs. Ige -- Calvin Kattar is a big favorite (-300) against Dan Ige in the main event. SportsLine MMA expert Kyle Marley, who has been on a heater lately, likes Kattar in the fight but doesn't think there's a lot of value in his betting line. Luckily, Marley has delivered picks for every other fight on the card and you can find those here
NASCAR: All-Star Race at Bristol -- Mike McClure's model isn't going chalk, saying 9-2 favorite Kevin Harvick won't even crack the Top 3. That should hold some weight considering it correctly called Harvick winning at The Brickyard just 10 days ago. You can check out the projected leaderboard right here. (Hint: Consider playing Denny Hamlin)
PGA: Memorial Tournament -- Okay, so this one doesn't technically start until early tomorrow but you might want to jump on the odds today. There's a lot of excitement around this event and it feels like a major, and not just because Tiger Woods is playing. (Though that certainly helps.) Mike McClure's model has isolated six players to win, including four longshots of 50-1 or higher. Find those (and where it projects Tiger to finish) right here
I'm gonna need a big week to help make up for the money I dropped on beer and food over the weekend, so let's hope we've got winners on our side, huh? If not I may have to start dropping my Venmo username and bank account routing number in your lap every morning until my extravagant lifestyle is fully financed.
📝 Odds & Ends
Yasiel Puig has a new home! The veteran outfielder is reportedly signing with the Atlanta Braves for the 2020 campaign
Myles Garrett and the Cleveland Browns are closing in on a five-year, $125 million extension
Post Malone got Patrick Mahomes' and Travis Kelce's autographs tattooed on his body as the result of losing to them in beer pong before one of his shows
A total of 11 umpires have opted out of the 2020 MLB season
📪 Mailbag: Vacation edition!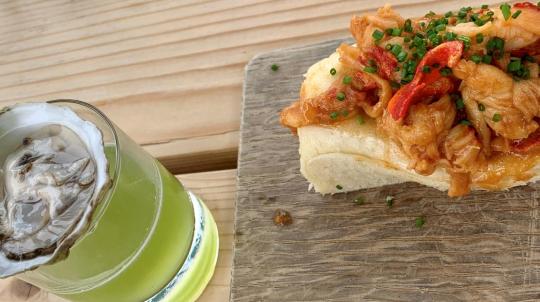 What's your favorite brewery in Portland? So many good ones to choose from. -Kenneth
The beer scene in Portland is incredible and I have a half-dozen favorites or so that I try to hit up every time I'm there, but at the top of the list is probably Allagash and Oxbow. Allagash is probably in its own tier based on size and popularity. Some of their beers can be hit or miss but, man, they've usually got at least one or two amazing offerings in rotation at all times and they're not afraid to experiment with some unique stuff. Plus, they've got a good atmosphere at their brewery and, from everything I've been told, they treat their employees really well.
Oxbow may not totally blow you away with what they have but I don't think I've ever had a bad beer there. Pretty much everything they put out is good-to-very good. They've got a really great space too. (Also, not a Portland brewery but Maine Beer Company is always worth the drive to Freeport.)
On vacation, are you happier to get away from your colleagues, or are they happier that you're away? -Akiva
I've never really felt the need to "get away" from my colleagues, at least not here at CBS Sports. Maybe it helps that I work remotely from home (and did even before coronavirus) but I also really like everyone I work with on a daily basis -- even if a bunch of them are disgusting Yankees fans. I'm more happy to get away from the general responsibility of having to do work than I am happy to get away from any particular person or thing.
But, if I had to guess, I'm sure a few people were happy to have me out of their hair for a few days. Sucks for them because I'm back and more annoying than ever!
I was wondering what the most important factor in the Portland community is for you to continue to re-visit and enjoy the area. Is it the lobster, cold beer, community or what? -Ralph
The beer and food are very much the pillars that Portland stands on, at least for me. The breweries and restaurants are top notch and, though I'll hit certain favorites every time, there's always new gems to find on every trip too, which keeps it exciting. I also love that it's right by the ocean and there's some really cool architecture/historic buildings around the docks and wharves of Old Port. And while it can get pretty busy around there during peak season, it has never really felt overwhelming or too overcrowded whenever I've been there, and that's a big deal to me.
What was your favorite beer? Do you drink the same beer for your 6th beer as you had for your first beer? -Gil
I definitely like to switch things up and keep the palate a little confused whenever I make the trip up there. This time around, my favorite beers by far were "Radiant Days" from Definitive (it tastes just like a creamsicle and it's incredible) and "Cobbled Stones" from Foundation. Both are really easy drinking, fruity summer beers.
I remember I had the best clam chowder right on the wharf in Portland but can't remember the name of restaurant. Who has the best clam chowder in Portland? - John
I'm not a massive clam chowder guy and I haven't gotten it too many times around the city, so I can't tell you with certainty who's got the best. I can tell you that I've had the clam chowder at Eventide and it was really, really good so maybe that's what you're thinking of. (Also, Eventide also has the best lobster roll I've ever had in my life... sorry to the High Roller stans.)
 

24/7 Sports News Network

 

NFL Podcast

Sports news without the yelling and fake debates. Stream CBS Sports HQ for nonstop highlights, analysis and picks. Watch for free on all of your devices.
Learn More


 

Get up to speed with what's trending in the NFL each morning with senior writer Will Brinson.
Subscribe Now

| | | | |
| --- | --- | --- | --- |
| FOLLOW CBS SPORTS | | | |