Email Not Displaying? Click Here

Thursday, August 13, 2020
Well, good morning! It's Thursday and this week is flying by... at least I hope it feels that way for you, too.
I've been keeping myself busy with playoff hockey and video games, which should come as no surprise to you by now. I've recently jumped on the "Fall Guys" bandwagon and, man, what a stupid and delightful time that game is. Highly recommend! I also found a mouse in my apartment this week so, as fair warning, if I disappear from your inbox it'll likely be because I got locked up for arson after trying to torch Stuart Little.
There's another fat stack of sports stuff to talk about this morning so pull up a chair and let's get our game faces on.
📰 What you need to know
1. Which teams would benefit from altered NFL schedule? 🏈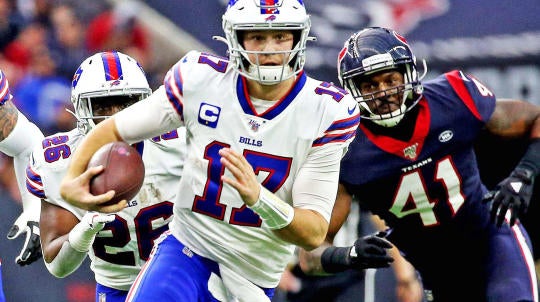 As of right now, the NFL is planning to play a full 16-game season without any host bubbles to shield the league from the ongoing pandemic. That may prove to be challenging (as evidenced by some of the struggles MLB has experienced already) and there's always the chance that the NFL could change its plans between now and September, or even alter them on the fly.
Our Jason La Canfora doesn't seem all that optimistic that the NFL will be able to play things out as currently planned (can you blame him?) so this week he decided to dive into an interesting exercise based around a "what if" scenario: What if the NFL ultimately scraps out-of-conference games and alters the schedule so that teams only face in-conference foes?
JLC explores that idea and which teams might benefit the most if it were to happen.
Cardinals: An altered schedule would wipe out Arizona's matchups vs. the AFC East and ensure that they would only have to travel to the East Coast just once. They would also likely benefit from extra rest, including a possible extended layoff in November (they're scheduled to face the Dolphins and Bills in back-to-back weeks)
Patriots: If the Patriots could avoid the Seahawks in Week 2 and the 49ers in Week 6, their schedule would look a lot less daunting. They also wouldn't have to make a West Coast road trip until December. Escaping an early-season grind could do them a big favor in the long run
Bills: Just like the Pats, avoiding the NFC West would give Buffalo a big break. Their outlook in November and December would be a lot less scary and it could help them gear up for a lengthy playoff run
Chiefs: It's not as if they need the help but KC would miss a bunch of games against the NFC South in the second half of the season. Lightening their December load would put them in good shape to repeat as Super Bowl champs
While we're discussing altered NFL schedules, it would be nice if the NFL could find a way to stretch games across multiple days of the week rather than stacking the slate on Sundays. If we're not going to have college football and other sports are going to be in their offseason while the NFL is in-season, then why not have two or three games per day across several days of the week in order to maximize our entertainment options and the league's advertising revenue?
I have no idea if this idea would work logistically with spacing and rest between games and, if so, it would take a lot of creativitky from schedule-makers to pull off. But the idea of the NFL having a nightly "Monday Night Football"-esque schedule could be a lot of fun.
2. Will the Power Five ever get on the same page? 🏈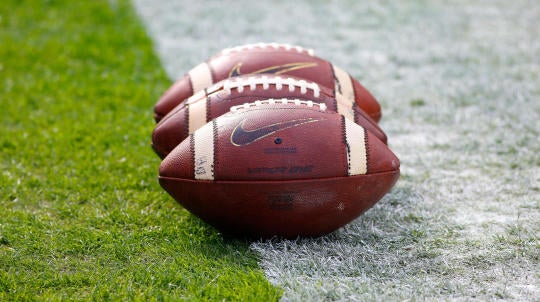 As we discussed yesterday, there's a strong divide between the Power Five conferences right now and it's a rather awkward situation in the world of college football. The Big Ten and Pac-12 have already made the decision to cancel the 2020 football season, but the Big 12, SEC and ACC are all still moving forward with plans to play this year. Perhaps one of those three will turn into a swing conference and provide some cover for the other two, but right now things are divided. The Big 12 even moved forward and released its schedule yesterday.
And not only is the Power Five divided, but the individual conferences seem to be divided too. Nebraska made it clear that they weren't happy with the Big Ten's decision and the school would look to explore other opportunities (aka explore joining another conference) to compete. Yikes.
And, for what it's worth, Big Ten commissioner Kevin Warren squashed the idea of the Cornhuskers temporarily competing in another conference yesterday. So it seems that tensions are just a little high .But the thought is now out there, and our Dennis Dodd says that player raids and micro conference realignments are within the realm of possibility. What if the schools that are playing try to poach players from some of the nation's top competitors?
Arizona State athletic director Ray Anderson: "To the extent others think there's an opportunity to essentially come recruit our players, we would say, 'Have at it.' We're not going to change what's important to us."
With that in mind, things are messy now... but there's potential for it to get a whole lot messier in the fallout.
On a somewhat related note, fans of Big Ten and Pac-12 schools may now be looking to temporarily shift their fandom so that they may have a team to root for this season. Our Chip Patterson put together an awesome guide to help out with that, suggesting a few surviving 2020 college football teams for somber fans of every Big Ten program.
So, we've got disagreements and infighting, shifting loyalties, raids and side pieces from across the way. This season of college football could be so dysfunctional it passes as a season of "Real Housewives."
3. PSG stuns Atalanta with two late goals ⚽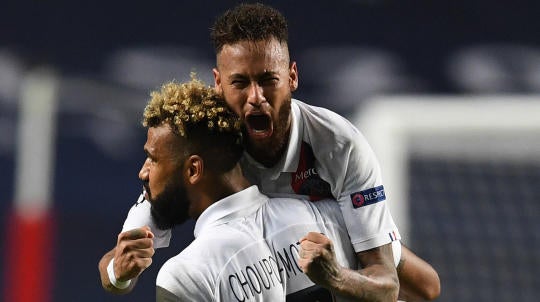 We had Champions League action yesterday with Paris Saint-Germain taking on Atalanta in a one-off match to advance through to the semis. And that match brought DRAMA.
Atalanta has been the Cinderella story of the tournament this year and, for a while on Wednesday, it looked like they were positioned to continue their unlikely run. Alas, a stunning finish proved it wasn't meant to be.
Atalanta held PSG off the scoreboard and took a 1-0 lead into the 90th minute, but the Parisians finally broke through with a stunning rally in the dying minutes
Marquinhos scored the game-tying goal in the 90th minute before Eric Maxim Choupo-Moting delivered the game-winner in the 93rd minute
Kylian Mbappe didn't start due to injury but was subbed in during the second half and proved to be a difference maker, directly assisting in the winning goal
PSG moves on to its first Champions League semifinal in 25 years
Our Gabe Fernandez has some more takeaways and analysis from the match, while Roger Gonzalez provided player ratings for every guy on both sides. Neymar ranked among the best on the pitch Wednesday despite the fact that he endured several tough misses during the game . But as Gonzalez points out, his passing was critical in getting PSG the victory.
PSG will await the winner of RB Leipzig vs. Atletico Madrid, who play later today, for a date in the semis next week.
4. Giannis' headbutt a sign of frustrations in the bubble? 🏀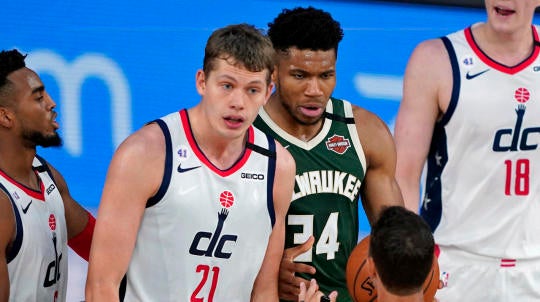 When Giannis Antetokounmpo delivered a headbutt to Moe Wagner earlier this week, it sent a bit of a shockwave through the NBA world. Not only because it was an NBA superstar losing his cool and delivering a cheap shot to an opponent, but also because it was so uncharacteristic for Giannis -- one of the calmest and most dignified stars in the league.
The incident left Giannis with a one-game suspension and a slightly stained reputation, but our Bill Reiter thinks it may be emblematic of a bigger theme: Players are having to navigate more pent-up frustrations in the NBA bubble than they're used to, and that could have an effect on even the best teams during the playoffs.
Reiter: "Giannis losing his cool marked the third time one of the three NBA teams most likely to hoist the Larry O'Brien Trophy in October found itself ceding calm and poise to drama and disdain. Several league sources told CBS Sports that the grind of being cooped up in Orlando away from family, wives, children, girlfriends, friends -- one's life -- has played a part in some of these outbursts... It's more than just the build-up of the game. It's the build-up of life away from normal life, stuck together, nerves stretching, annoyances growing, issues outside the bubble often building, and players finding themselves less and less able or willing to control their mounting tempters and frustrations... The bubble is the highest hurdle on the way to this year's NBA championship."
One of my favorite things about playoff series in sports is that teams tend to get sick of one another over the course of four-to-seven games. You keep mixing it up with the same opponents night after night and bad blood is bound to develop, tensions are bound to rise -- especially when there's glory on the line.
Personally, I'm all for this. I love angry sports. I love when guys hate each other's guts. It makes for great theater. So if bubble life can get to Giannis and make him act out of character in a relatively meaningless game, I'm very intrigued to see how it'll get to players as the stakes are raised in the coming weeks.
If the bubble turns out to be a chaos generator and a great equalizer, I may ultimately have to campaign for it to be an annual thing.
📝 Odds & Ends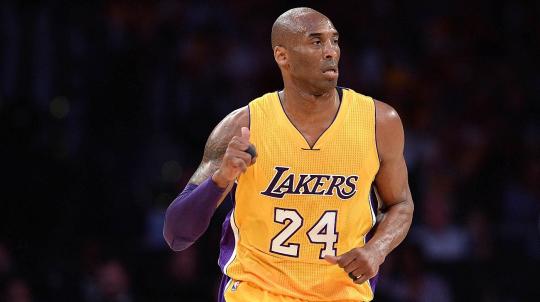 August 24 (8/24) was officially declared Kobe Bryant Day in Orange County, CA
NCAA Council has recommended eligibility relief for athletes who opt out or lose seasons due to COVID-19
The Big East Conference has announced that all fall sports will be postponed
📺 What to watch today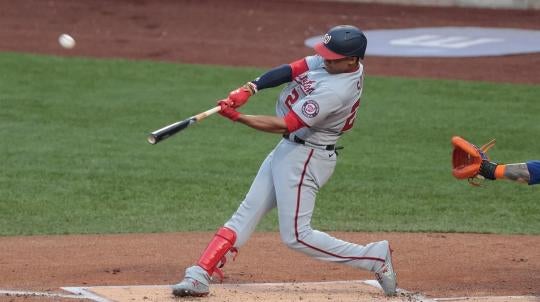 🏀 Wizards vs. Celtics, 12:00 p.m. | PK
⚾️ Nationals vs. Mets, 1:10 p.m. | NYM -125
🏒 Blue Jackets vs. Lightning, 3 p.m. | Lightning -170
⚽ Champions League: RB Leipzig vs. Atletico Madrid, 3 p.m. | Leipzig +235
🏒 Flames vs. Stars, 10:30 p.m. | DAL -110
📝 Top scores from last night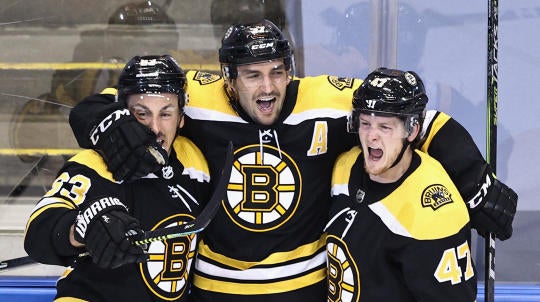 ⚽ Champions League: Paris Saint-Germain 2, Atalanta 1
PSG rallied for two late goals to stun Atalanta and move on to the semifinals.
💵 Winning wagers: PSG (-110), Under (3.5)
🏒 Bruins 4, Hurricanes 3 (2OT)
Boston got its first win in the Toronto bubble thanks to a game-winning goal from Patrice Bergeron in double-OT. The Bruins lead the series 1-0.
💵 Winning wagers: Bruins (-137), Over (5.5)
⚾️ Marlins 14, Blue Jays 11
Toronto had 18 hits and seven home runs but still wound up on the losing end of the game -- the first time that has ever happened in MLB history.
💵 Winning wagers: Marlins (+150), Over (8.5)
🏀 Thunder 116, Heat 115
Mike Muscala hit a 3-pointer with 5.2 seconds left to push OKC to a win after the Thunder trailed by as many as 22.
💵 Winning wagers: Thunder (+145), Over (221)
 

UEFA Champions League

 

Football Pick'em

CBS Sports is the new home of the UEFA Champions League. Stream every match through the Final on August 23rd on CBS All Access. Sign up today and try 1 month free!
Learn More


 

Start your own custom pick'em pool to compete against friends or play solo for the chance to win $1,000 in guaranteed cash every week!
Play Now

| | | | |
| --- | --- | --- | --- |
| FOLLOW CBS SPORTS | | | |