Email Not Displaying? Click Here

Friday, June 19, 2020
Friday? More like Cry-day because ya boy is about to dive into "The Last Of Us Part II" and Phoebe Bridgers' new album, which means the tears are most definitely planning a coming out party.
Also, while we're talking video games, my skateboard enthusiasts should know that EA finally announced yesterday that "Skate 4" is officially in development. I haven't made many friends at CBS Sports with my take that "Skate" is superior to the "Tony Hawk's" games (at least over the last 20 years) but I will die on that hill. The world is a much better place with a new "Skate" installment on the way.
The world is also a better place with sports, and we've got plenty on the way this weekend. Don't look now, but soccer, golf, NASCAR, UFC, KBO and horse racing are all on the way this weekend, so hopefully there's something to get your blood pumping.
Before we part ways for a few days, let's grab a seat, pour a cup and have one more chat about everything going on right now. Shall we?
📰 What you need to know
1. Jamal Adams reportedly asks Jets for trade 🏈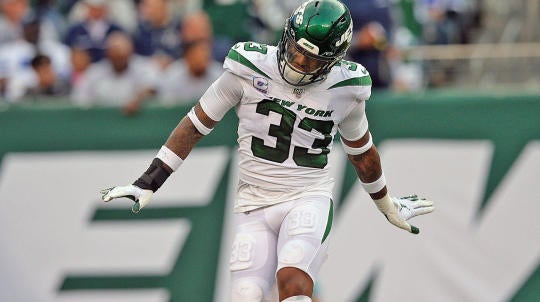 The rocky relationship between Jamal Adams and the Jets may have finally hit a boiling point yesterday, when it was reported that the Pro Bowl safety requested a trade from the club.
The two sides have been walking on a tightrope since Adams' name was floated in trade rumors last offseason. The safety is seeking a big payday-- he's still on his rookie deal -- before he straps on the pads again, and the Jets seem pretty unwilling to give it to him, especially in these uncertain times. Now, Adams is fed up with stalled negotiations and is publicly suggesting that "maybe it's time to move on."
But where might he end up if the Jets do indeed decide to pull the trigger on a trade? He's apparently listed seven teams he would prefer to be dealt to, and that list is as follows:
Ravens: Baltimore is tight on the cap in 2020 but they've got a bunch of money coming off the books in 2021, so they may be able to work Adams into the picture
Cowboys: Dallas was the team most linked to Adams last year (they offered a first-round pick to get him at the deadline) and they still may be interested. But can they afford to give up multiple picks and then hand him a major extension, especially when Dak Prescott is still looking for his next deal?
Chiefs: Kansas City doesn't have a lot of money to throw around and they've still gotta sign Patrick Mahomes to a record-setting extension at some point. They also have two solid safeties in Juan Thornhill and Tyrann Mathieu, so this doesn't make the most sense
49ers: If the Niners can somehow land Adams and extend him instead of Jaquiski Tartt, it would be a major coup for a team that's looking to get over the hump as a Super Bowl contender
Seahawks: Seattle has a ton of cap space and they're not afraid to make big splashes. Acquiring Adams would give them the best safety tandem in the division and help them cut down on the number of passing yards allowed this year and beyond
Texans: Bill O'Brien is a wild card and you can never guess what wild deal he'll swing next. Adams has expressed a desire in returning to his native Texas, so this could be a great fit. Plus, the Jets may be able to get more out of Houston than any other team on the list given some of O'Brien's past deals
Eagles: Philadelphia will undoubtedly be interested since they love having a strong presence at safety and pairing Adams with Darius Slay would give them one of the best defenses in the league. However, they don't have a lot of flexibility on the cap in 2021
Adams was the Jets' sixth overall selection in 2017 and has two Pro Bowl appearances in three NFL seasons. He's still just 24 years old, so there shouldn't be a major shortage of interest in such a young, talented defensive playmaker. The question is, will a team be willing to meet the price required to land him -- both in terms of his next contract and what it'll take to satisfy the Jets?
Another thing I'd like to know: If the Jets aren't going to open up the checkbook for Adams, who are they planning on saving that money for? There's not a whole lot of talent worth throwing money at on that roster.
2. Rob Manfred says MLB, MLBPA negotiation 'needs to be over' ⚾️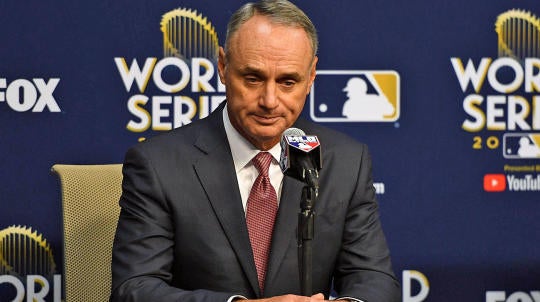 It doesn't seem like MLB commissioner Rob Manfred is doing or saying a lot of the right things these days, but I do have to agree with his most recent assessment of the ongoing labor negotiations between MLB and the MLBPA. Yesterday, Manfred expressed his frustrations and said "this needs to be over."
Uh... you think? That may as well be the slogan for all of 2020.
Regardless of whether you're siding more with the owners or with the players, there's a good chance you're totally exhausted and sick of this whole ordeal. Unfortunately, it's not quite over yet, as the MLBPA submitted yet another counterproposal on Thursday.
Here are some of the details included in that latest proposal from the players:
70-game season that would run from July 19 to September 30
Full prorated salaries based on number of games played, plus $50 million in playoff bonuses
Universal designated hitter
An agreement to not file a grievance against the owners for a shortened season
50/50 split of 2021 postseason TV revenue
Before you get your hopes up, it's already being assumed that the owners are going to reject this proposal as well, so we're gonna have to deal with this nonsense for a little bit longer. But there's hope that the two sides are slowly working toward meeting in the middle somewhere, and there's been a lot of positivity around the possibility a deal could be reached soon.
Manfred's clearly frustrated that a deal wasn't able to get done when he sat down with MLBPA boss Tony Clark earlier this week, but most of us have been totally over this whole thing long before that.
Let's just hope that when we meet back up on Monday that there will finally be a sweet, merciful end to discuss.
3. Updates from the RBC Heritage 🏌
Another PGA event kicked off yesterday with the RBC Heritage in South Carolina and it's shaping up to be a second exciting weekend in a row for golf. After Round 1 on Thursday, the leaderboard is looking quite interesting. Here's a look at where things stand after the opening round, along with some analysis from our resident golf guru Kyle Porter:
T1. Ian Poulter, Mark Hubbard (-7): Poulter had a nearly perfect round, finishing a bogey-free 64. That's his second bogey-free round this season after posting zero last year. Meanwhile, Hubbard needed just 21 putts and tied his career-low 18-hole score
T3. Webb Simpson, Sebastian Munoz, Viktor Hovland, Michael Thompson, Dylan Frittelli, Brice Garnett, Ryan Palmer (-6): Simpson is the scariest of this group because he didn't even putt well on Thursday and yet here he is. Harbour Town suits him perfectly and allows his best skills to shine, and that's why he's the new 7-1 favorite after 18 holes
T10. Jordan Spieth, Tony Finau, Matthew Fitzpatrick, Erik van Rooyen, Mackenzie Hughes (-5): Once again, Jordan Spieth was highly entertaining yesterday... for better and for worse. He had eight birdies (including six in a row, a new PGA career record for him) but he also had a costly triple-bogey... because of course he did
T16. Bryson DeChambeau, Brooks Koepka, Rickie Fowler, Daniel Berger (-4): DeChambeau has captivated the golf world of late (mainly because he gets bigger every time we see him) and he was impressive with the shorter course on Thursday. He still finished top 10 in driving distance and nearly led the field in strokes gained off the tee
T108. Rory McIlroy (+1): McIlroy was one of the most disappointing competitors on Day 1, looking rough in almost every facet of the game. He'll have to have a strong day today to make the cut and start digging himself out of this hole over the weekend
I remain incredibly fascinated by Spieth, who has established himself as one of the most unpredictable golfers on tour. You never know what you're gonna get from hole-to-hole -- will he look like the elite stud that ascended the golf ranks in no time, or will he look like the guy who can unravel at a moment's notice? The uncertainty always keeps you on the edge of your seat. Wait, is Jordan Spieth the Jameis Winston of golf?!
We've got Round 2 kicking off today, and you can find tee times and groupings right here. I'll have it on as background entertainment while I play video games throughout the weekend but, if you're in the market for someone who pays closer attention, you can keep up with Porter's updates here.
4. Preparing for the Belmont Stakes 💵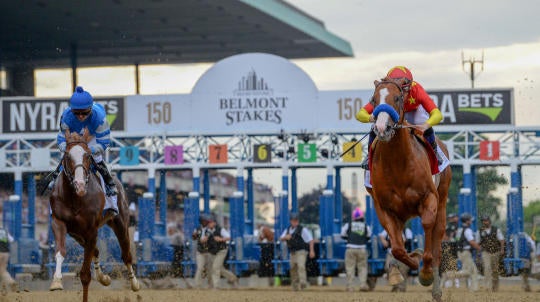 Instead of our usual Friday gambling corner in which we go around sports finding things to bet on, this week let's just key in on the easy one: The Belmont Stakes.
Horse racing's Triple Crown season is officially going to open tomorrow at Belmont, which is a very strange thing to say considering Belmont usually closes the Triple Crown schedule. But, hey... that's 2020 for you.
Before we get you some expert picks for Saturday's big race, why don't we meet the horses that will be running in the main event? And since I'm someone who doesn't really follow horse racing closely, I've decided to rank the horses in this year's Belmont simply based on the quality of their name.
Tiz the Law - Sounds like: A horse that's meant to be broken
Sole Volante - Sounds like: Something you would be self-conscious about pronouncing at a fancy restaurant so you just hold up the menu to the waiter and point at it instead
Pneumatic - Sounds like: A raw but widely respected album from an up-and-coming rapper
Jungle Runner - Sounds like: An entertaining but forgettable popcorn movie starring The Rock (and probably Kevin Hart) that will be bound for weekend marathons on cable TV
Max Player - Sounds like: A horse the New York Knicks would have trouble signing
Dr. Post - Sounds like: The self-given nickname of an internet troll who sits on the computer browsing Reddit for memes he can steal and post to Facebook/Twitter for clout
Tap It To Win - Sounds like: Something you should never say on a first date
Modernist - Sounds like: A hipster barbershop in Brooklyn where a fade costs $75
Fore Left - Sounds like: Tom Brady off the tee in a charity golf match
Farmington Road - Sounds like: A street in a Connecticut suburb where teenage boys whose dads work in finance blow up mailboxes with fireworks in broad daylight
Now that we've got introductions to the field out of the way, let's get some quality advice from the one and only Jody Demling, who has nailed the winners of five straight races for SportsLine. Tiz The Law is the strong favorite at 6-5 odds, but is that the play?
Here's what Demling is suggesting for your tickets this weekend:
$20 EXACTA: Max Player with Tiz The Law, Sole Volante ($40 total)
$2 EXACTA: Max Player with all others ($14 total)
$1 EXACTA: Sole Volante with ALL ($9)
$0.50 TRIFECTA: Max Player with Tiz The Law, Sole Volante, Modernist, Jungle Runner with ALL ($16 total)
$0.10 SUPERFECTA: Max Player with Tiz The Law, Sole Volante, Modernist, Jungle Runner with Tiz The Law, Sole Volante, Modernist, Jungle Runner with ALL ($8.40 total)
If you want to consult a second opinion, feel free to check out Hammerin Hank Goldberg's picks.
And just in case you have no idea what any of that means and you need some help learning horse racing terminology, feel free to take a look at this handy language explainer. Good luck out there.
📝 Odds & Ends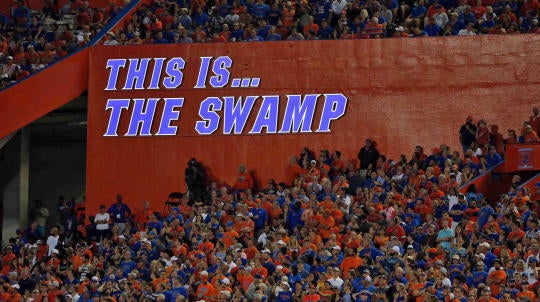 Should the Warriors consider trading Klay Thompson? Our Brad Botkin explains why it's not out of the question
A couple of former pro hockey players, including ex-NHLer Dan Carcillo, have outlined disturbing hazing allegations in a class-action lawsuit
The University of Florida will discontinue the popular "Gator Bait" cheer at school events due to its connects to racial imagery
 

PGA Tour on CBS

 

Golf Props

Stream the 2020 RBC Heritage this Saturday and Sunday at 3:00 PM ET for free on CBSSports.com and the CBS Sports App!
Learn More


 

Play along with this week's golf action and compete to win $1,000 each round with CBS Sports Golf Props. Answer some quick questions and you're in contention for the cash! Join any round for your chance to win.
Play Now

| | | | |
| --- | --- | --- | --- |
| FOLLOW CBS SPORTS | | | |