Email Not Displaying? Click Here

Monday, July 20, 2020
Welcome back, partner. It's Monday and people are tired. We're gonna need some more coffee this morning. Just pour that entire thing right on my face.
I hope your weekend treated you right in all the ways you needed, and here's to hoping we've got a good week ahead, huh? This is a big week for us in the sports world, as MLB will be kicking off its season on Wednesday. Have you managed to shed your disgust over the infuriating labor negotiations enough to get excited about baseball? I'm still working on it, if we're being honest. (But let's be real, I'm not not going to be excited about more sports.)
We've some good stuff for you this morning to jumpstart your week, so let's get to it.
📰 What you need to know
1. NFL players demand league to come up with better COVID-19 plan 🏈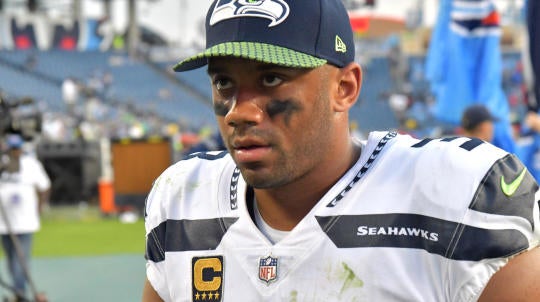 The NFL might seem really confident about playing a full season in 2020 but here's the thing: That probably isn't going to happen until the league finalizes financial terms and health/safety protocols to navigate the pandemic.
With training camps slated to open this week and negotiations over logistics still ongoing, pressure is starting to mount. There was a concerted effort to add to that pressure yesterday when some of the biggest names in football took to Twitter and demanded the league put together a more comprehensive plan for the upcoming season, all using the hashtag #WeWantToPlay.
Here's some of the statements that were sent out:
Drew Brees: "We need football! We need sports! We need hope! The NFL's unwillingness to follow the recommendations of their own medical experts will prevent that. If the NFL doesn't do their part to keep players healthy, there is no football in 2020. It's that simple. Get it done, NFL."
Russell Wilson: "I am concerned. My wife is pregnant. Training camp is about to start...And there's still no clear plan on player health and family safety. We want to play football, but we also want to protect our loved ones."
Patrick Mahomes: "Getting ready to report this week hoping the NFL will come to agreement with the safe and right protocols so we can feel protected playing the sport we love"
Last week we discussed the possibility of the NFL and NFLPA heading towards a labor strife that could jeopardize the league's set schedule for the 2020 season and this sweeping response certainly suggests that reality may be on the horizon.
At this point, it's still unknown if there will be preseason games. There's still no official policy on how the NFL will conduct testing, handle positive cases or authorize opt-outs. Yet, despite the lack of official agreement, the NFL can mandate that players report to camp and fine those that don't show up.
It doesn't seem all that unfair for players to want to know what they're getting into and how the league is going to protect them before they commit to reporting to training camp, no? At this point, that should be something that is afforded to every employee -- regardless of the sector -- before they return to work.
2. Jon Rahm new world No. 1 after winning Memorial Tournament 🏌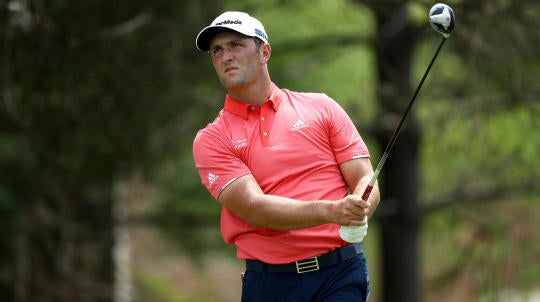 You may have had a nice weekend but I'm willing to bet it wasn't quite as nice as Jon Rahm's. Not only did Rahm win his first PGA Tour event of the season on Sunday at the 2020 Memorial Tournament, pulling in nearly $1.7 million in the process, but he also took over the world No. 1 ranking as a result.
Our Kyle Porter had been hyping up the Memorial as a faux-major championship for much of last week and he still stands by that, saying it felt like a major at times over the weekend. He thinks that the resiliency Rahm showcased this weekend really bodes well for his chances in more prestigious events moving forward.
Porter: "You win majors with your head more than you do with your game, but if your game can't match how it's playing out in your head, you're not going to do much winning at all. Rahm has always had the shots, and on Sunday he married them to a resiliency that he's maybe struggled with in major championship-like conditions in the past. He just kept coming and kept coming even when it felt like he could have ejected."
Rahm's best shot of the day yesterday (and one that may have saved his round) was an incredible birdie chip that found its way to the cup on the 16th. Unfortunately, that shot wound up becoming somewhat of a controversial one, as it was ruled that Rahm caused the ball to move before he holed out, so he was ultimately assessed a two-stroke penalty. But it didn't end up costing him too much, as he still finished three strokes clear on the leaderboard.
Speaking of the leaderboard, here's your top dozen who finished par or better:
Rahm (-9)
Ryan Palmer (-6)
Matthew Fitzpatrick (-5)
Matt Wallace (-4)
Jason Day (-4)
Mackenzie Hughes (-3)
Henrik Norlander (-3)
Tony Finau (-2)
Kevin Na (-1)
Luke List (E)
Patrick Reed (E)
Xinjun Zhang (E)
You may notice that one Tiger Woods is not on that list, and that's because he finished tied for 40th in the event -- his first since the PGA returned from coronavirus shutdown. Overall, Porter was pretty impressed with how Woods navigated four tough rounds on a tough course. While his swing looked good, he didn't putt all that well over the weekend.
But most importantly, Tiger managed to have a fairly clean weekend health-wise (he seemed to be battling his body a bit on Friday, but that's it) and he finished on a high note with a strong round Sunday.
3. Blue Jays can't play in Canada this year ⚾️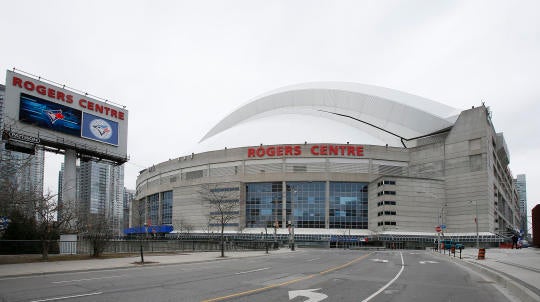 Last week we talked about the possibility of the Nationals playing their home games outside of D.C. this season in order to avoid the city's strict COVID-19 guidelines, and this weekend brought confirmation that it's actually a different MLB team that will be displaced in 2020.
On Saturday, the Canadian government officially declined to give the Toronto Blue Jays clearance to play games in the country during the 2020 season
The government is against the Blue Jays traveling across the border and back throughout the season
Instead of playing their games at Rogers Centre, the Jays must now find a new home before their schedule begins on July 29
That's certainly not an ideal situation to be in, but the Jays have some options on the table. They can share a stadium with another team in their East region (possibly the Tampa Bay Rays), they can take over an inactive park such as Turner Field in Atlanta or they can settle for a minor league facility.
It would make a lot of sense for the team to end up in Buffalo thanks to the proximity to Toronto and the fact that the Jays' Triple-A affiliate is the Buffalo Bisons. But the team is reportedly intent on finding a MLB facility to play in.
It's hard not to feel for the players and staff who have gone through the process of leaving their families and returning to work, only to be told that they're gonna have to pack up and set up shop in a different (and still unknown) location about a week before the season starts. I know they're making plenty of money to play baseball and so they may not get a ton of sympathy from us regular working folk, but, still, that's a major pain in the ass. Regardless of tax bracket, nobody likes a surprise move sprung on them... especially when you might have to move to Buffalo to play in a minor league stadium.
4. Former Washington player D.J. Swearinger: 'They all need to be exposed' 🏈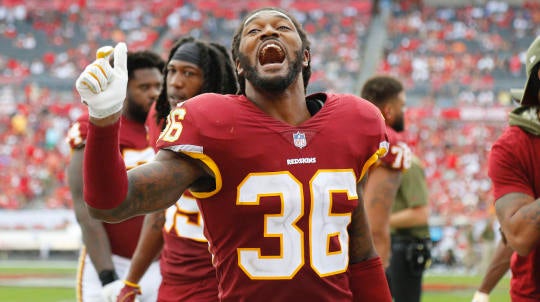 We've been monitoring the fallout of the bombshell accusations against Washington's NFL team late last week and it's been relatively quieter than expected thus far. Not surprisingly, Dan Snyder released a very PR-heavy response to those allegations but there hasn't been a ton of noise elsewhere.
However, there has been one wrinkle added, and it comes via former Washington safety D.J. Swearinger.
Swearinger posted a screenshot of an alleged conversation between the safety and then-Washington head coach Jay Gruden shortly before Swearinger was released
The NSFW-text exchange was allegedly sparked by an upset Gruden after he'd been told that Swearinger said something negative about him in an interview following a loss
Swearinger was released by the team in a surprising move a few weeks later -- on Christmas Eve 2018 -- despite being a leader on defense and a Pro Bowl alternate
Swearinger, in the caption accompanying the screenshot: "I was gonna give the man a pass, but after all that's going on in that organization with women! They all need to be exposed."
Swearinger's relationship with Gruden was a rocky one. Swearinger was dumping on coaches to the media and at least one of those coaches was (allegedly) sending him immature text messages in response. Much like everything involving that organization, this situation was kind of a mess.
Ultimately, though, I'm not sure what Swearinger leaking the text message is going to do for anyone. It's not really exposing anything other than one brief exchange of aggressive, combative behavior from an NFL coach, which probably isn't too out of the ordinary if we're being honest. We didn't need that text to know that Gruden was sort of a suspect leader.
Swearinger has played for three separate teams since being cut by Washington and Gruden has since moved on to take over as offensive coordinator in Jacksonville. That's all probably going to just stay the same.
This might be the definition of the ol' "you thought you had something here."
📝 Odds & Ends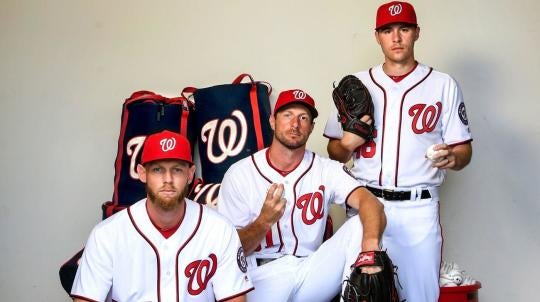 From our Matt Snyder: Nationals aces Max Scherzer, Stephen Strasburg and Patrick Corbin could have a steep climb in a shortened season
Congrats to Clemson QB Trevor Lawrence, who got engaged to his longtime girlfriend at Memorial Stadium on Friday
Raiders owner Mark Davis says he doesn't expect fans to be able to attend games at the brand new Allegiant Stadium in Las Vegas this year
 

24/7 Sports News Network

 

NFL Podcast

Sports news without the yelling and fake debates. Stream CBS Sports HQ for nonstop highlights, analysis and picks. Watch for free on all of your devices.
Learn More


 

Get up to speed with what's trending in the NFL each morning with senior writer Will Brinson.
Subscribe Now

| | | | |
| --- | --- | --- | --- |
| FOLLOW CBS SPORTS | | | |