Email Not Displaying? Click Here

Tuesday, August 4, 2020
Happy Tuesday, amigo! I've gotta tell you, yesterday was a pretty surreal day. I woke up around noon on a weekday in August and had playoff hockey waiting for me immediately. And that playoff hockey continued for the next 13 hours. And now I get to do the same thing again today?! This is truly the weirdest time to be alive.
I'll try not to continuously smash you over the head with my love of hockey on a daily basis but no promises. (If you're going to watch one NHL series in action right now, make it the Oilers-Blackhawks matchup. It's truly a mess of chaotic, undisciplined hockey but it's fast-paced, entertaining and hilarious.) If you don't dabble in the art of the stickypuck, I hope you're enjoying plenty of the other offerings we've got these days -- the shootyhoops, raceycars, lumbersmacks or flag-in-holes.
We've got things to discuss about a bunch of those this morning and we've got pretty limited time to do so since our new glorious sports schedule runs ALL DAY. But before we get into it, a quick reminder to send question(s) to me (pete.blackburn@cbsinteractive.com) for tomorrow's Mailbag.
Alright, let's get to it here, shall we?
📰 What you need to know
1. NBA Draft deadline comes and goes 🏀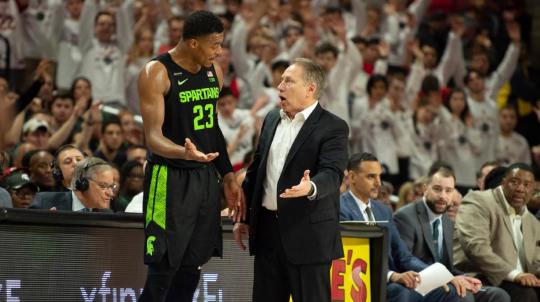 You may not be thinking too heavily about the NBA Draft at this point considering we just got basketball back in our lives and there's an overload of sports to keep us busy for the time being. However, not everyone is participating in the NBA restart down in Disney, which means there are several teams (and fanbases) that do have to start thinking about their future.
You know who else probably has the NBA Draft on the brain? The players who may or may not be involved. Last night brought the draft withdrawal deadline, meaning that any college player who was testing the NBA Draft waters had until midnight to decide whether they were going to return to school or remain in the pool of eligible draft prospects.
There was a ton of activity in the final days, with more than half of the 156-player pool withdrawing and choosing to return to college. In total, 91 players removed their name from draft consideration, including:
Luka Garza, Iowa
Ayo Dosunmu, Illinois
Corey Kispert, Gonzaga
Jared Butler, Baylor
You can find a comprehensive withdrawal tracker right here, and we've also got a list of notable winners and losers from the deadline that you should check out as well.
Of course, this is a rather strange year for college underclassmen debating whether to go pro. March Madness was canceled in the spring so a lot of these kids probably feel like they have unfinished business (or at least had an unsatisfying conclusion) at their school's program. Then again, the uncertainty and unsettling nature of the pandemic may have convinced some other students to pass on returning to college and try to jump to the NBA instead.
In any case, with the pool of players now set, this isn't a bad time to get into some NBA mock drafts to see who might end up where. Luckily, we've got one of those for you! Our Colin Ward-Henninger has a full first-round projection ready to go.
For what it's worth, I was among the group that chose to withdraw from the NBA Draft this year. And it's not because I'm a 5-foot-6 guy nearing 30 years old with no athletic ability. It's because I didn't feel like filling out the paperwork.
2. Cardinals postpone another series due to COVID-19 outbreak ⚾️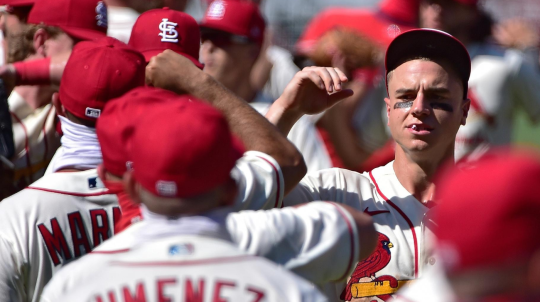 Major League Baseball's coronavirus problem is not going away. While the Marlins are hopeful to return to action tonight following their issues with a team outbreak, the Cardinals are still dealing with an outbreak of their own. Yesterday brought more bad news for the team.
The number of positive tests in the Cardinals' organization grew to 13 on Monday (seven players, six staff members)
MLB postponed St. Louis' four-game series against the Tigers that was scheduled to run Tuesday-Thursday
The Cardinals did not play their weekend series against the Brewers after learning of positive tests last week
The tentative plan is for the team to resume its regular schedule on Friday against the Cubs in St. Louis.
It's going to be at least one full week out of action for the Cardinals as they continue to combat the virus, and the hope is that their time in isolation will help stop the spread before it reaches any additional players/teams. The good news is that the Twins, who hosted St. Louis last week, have not had any positive tests since the Cards left town.
As long as the league's current issues stay contained, then maybe there's still hope to get through this season. But there's already been talk of cancelling the campaign due to the league's inability to navigate around the pandemic, so it's hard to avoid the feeling that every positive test seems like a step closer toward that outcome.
Hopefully this rocky start is a wake-up call for everyone league-wide.
3. 10 storylines to follow at TPC Harding Park 🏌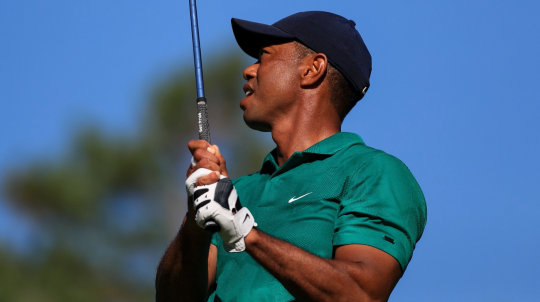 Don't look now but we've finally got a major championship being played on the PGA Tour this week! Sure, it's a few months later than we expected but nothing has exactly gone to plan in 2020, so we'll take what we can get.
Plus, there are still plenty of storylines to monitor as we approach the PGA Championship at TPC Harding Park in San Francisco over the next couple of days. Our Kyle Porter has been working tirelessly to get you prepared, so here are some of his top points of interest heading into this week's event:
Tiger Woods: Whenever Tiger's playing in a major, it's a storyline worth watching. Tiger will be included in the field this week and it's just his second event since the coronavirus shutdown (he finished T40 at the Memorial Tournament). He hasn't made a cut at the PGA Championship since 2014
Struggling stars: Some of the best players in the world have been extremely inconsistent or just downright bad lately. Brooks Koepka, Dustin Johnson, Jon Rahm, Rory McIlroy, Bryson DeChambeau and Webb Simpson all haven't been trustworthy, so what will we see from them?
Spieth slam: Speaking of inconsistent and untrustworthy, Justin Spieth will once again have a chance to secure the career grand slam. If he can do it, he'll become the sixth player in history to accomplish the feat... but don't count on it
There's plenty more to keep an eye on so head here for Porter's full list. Also, there have been a number of noteworthy withdrawals from the PGA Championship -- including John Daly, which is devastating from a pure entertainment perspective. Don't worry, there's still a stacked field and plenty of guys to root for, and our Chip Patterson has highlighted the nine gentlemen you should be pulling for.
And, as a reminder, this may be our first major in a while, but it's the first of many to come. The PGA Championship will kick off a run of seven majors in 11 months, which is pretty incredible. We survived a spring/early summer without some of our favorite big events, and now we're going to be rewarded through this upcoming stretch. We'll be seeing plenty of action from the best players in the world as they try to create (or build upon) their legacies, so strap in.
4. Struggling closers and who could replace them ⚾️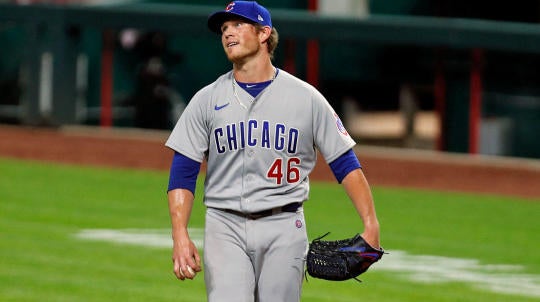 With the MLB season only being 60 games long this season, there's a heightened sense of importance attached to every every pitch, every moment, every inning, etc. As such, players who aren't performing well and are costing their team in meaningful moments may have a very short leash.
For closers that are typically given the ball when the game is in the balance, the leash could be even shorter. Our MLB writer R.J. Anderson has identified three closers that could soon be out of a job (or at least re-assigned) as well as the guys that could potentially replace them.
Edwin Diaz, Mets: Diaz hasn't been bad this year but his rough 2019 is still lingering over him and manager Luis Rojas hasn't committed to Diaz as the permanent closer. If he has another rough outing like the one he did against the Red Sox on July 30, he may be yanked from the role. Should the Mets look elsewhere, it's probably Seth Lugo who is next in line
Brad Hand, Indians: Hand made the All-Star team last year but missed the end of 2019 with a dead arm and has suffered from a drop in velocity this season. In addition to less gas, he's had some spotty outings that haven't inspired a ton of confidence. While Terry Francona hasn't talked about moving away from Hand, it does seem like James Karinchak would fit the mold as a possible replacement
Craig Kimbrel, Cubs: Kimbrel has been brutal out of the gate (one swinging strike on 46 pitches) and is getting crushed by opposing bats, so he may be the most likely to get bumped out of the role. Jeremy Jeffress and Rowan Wick may handle ninth-inning duties sooner rather than later
After all this talk of failing to close out strong, there's a lot of pressure on me to bring the heat and close the door on today's newsletter in dominant fashion. Uh, I...well...CRAP. Am I the Craig Kimbrel of newsletter pen pals?!
Here, take these early MLB Power Rankings from our Matt Snyder and leave me alone while I sob over this blown save in the dugout.
📝 Odds & Ends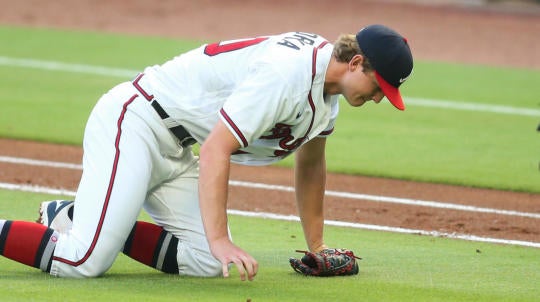 Braves ace Mike Soroka suffered a torn Achilles last night and will be out for the rest of the season
Dwayne 'The Rock' Johnson has bought the XFL for $15 million with partners RedBird Capital and Dany Garcia
The Reds' Joey Votto was activated from the COVID-19 injured list one day after self-reporting symptoms
Ryan Reaves, Tyler Seguin, Robin Lehner and Jason Dickinson all decided to kneel during the national anthem ahead of Monday's Stars-Golden Knights game
📺 What to watch today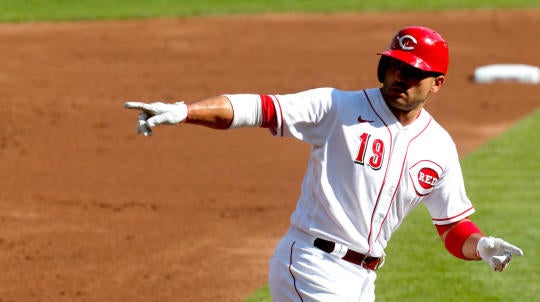 🏒 Blue Jackets vs. Maple Leafs, 4:00 p.m. | TOR -145
⚾️ Indians vs. Reds, 6:10 p.m. | CIN +150
🏀 Celtics vs. Heat, 6:30 p.m. | MIA +3.5
🏒 Hurricanes vs. Rangers, 8:00 p.m. | NYR +130
🏀 Rockets vs. Blazers, 9:00 p.m. | POR +4.5
📝 Top scores from last night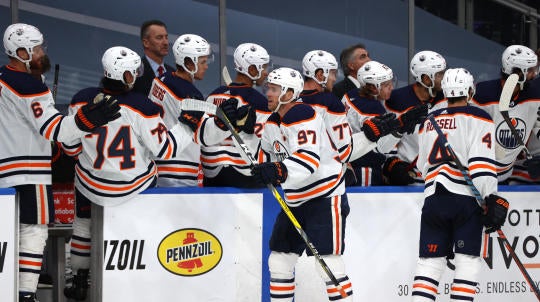 🏒 Oilers 6, Blackhawks 3
Connor McDavid scored three goals as Edmonton pulled even in their qualifying series with Chicago. It's now tied 1-1 in the best-of-five.
💵 Winning wagers: Oilers (-133), Over (6)
🏀 Lakers 116, Jazz 108
Anthony Davis had 42 points and 12 rebounds as the Lakers clinched the top seed in the Western Conference.
💵 Winning wagers: Lakers (-6), Over (217.5)
⚾️ Mets 7, Braves 2
Jacob deGrom had a strong outing (6.0 IP, 2 ER, 10 SO) as the Mets snapped a five-game skid. Braves ace Mike Soroka was lost for the year after suffering a torn Achilles in the third inning.
💵 Winning wagers: Mets (-129), Over (8)
 

UEFA Champions League

 

Golf Props

CBS Sports is the new home of the UEFA Champions League. The action gets underway on August 7th and you can stream every match on CBS All Access. Sign up today and try 1 month free!
Learn More


 

Join our challenge and compete to win guaranteed cash prizes in every tournament. Answer some quick questions and you're in contention for the cash! Join any round for your chance to win.
Play Now

| | | | |
| --- | --- | --- | --- |
| FOLLOW CBS SPORTS | | | |