Email Not Displaying? Click Here

Wednesday, September 9, 2020
If you're like me, you're probably having trouble keeping track of days of the week thanks to the fact that 1) time has become a meaningless construct in 2020, and 2) long weekends always kinda screw us up.
And if you're also like me, the stunning realization that NFL games start this week came with an accompanying realization that I haven't prepped for fantasy football whatsoever this year. My buddies and I had our draft last night and, well, I was woefully under-prepared and consistently rattled while on the clock.
Since I'd hate to see the same thing happen to you, we're going to dedicate today's newsletter to fantasy football and getting you prepared for your own league. We're in this together... when you win, I win. When you lose, I lose. And a reminder: stay up to date with the best fantasy tips all season by subscribing to our Fantasy Football Today Newsletter.
Let's make you a winner, huh?
📰 What you need to know
1. Draft Day Cheat Sheet 🏈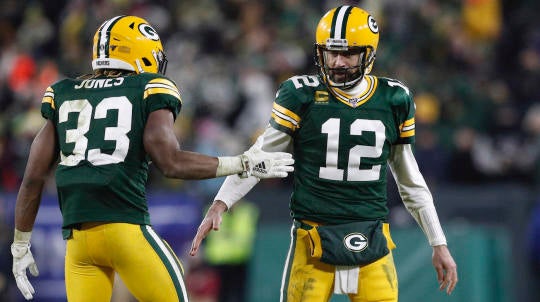 So you've got a fantasy football draft this week and you've barely done any research or prep. Now what? Well, our fantasy football crew is going to save you. That's what.
Our fantasy experts have put together a draft day cheat sheet that has everything you need -- rankings, busts, sleepers, strategy guides and everything in between. Pretty much everything you could ever want
Fantasy Football Today has also put together a full draft guide that gives you a round-by-round walkthrough with expert advice for PPR, non-PPR and .5 PPR scoring leagues
We're going to jump into deeper specifics here in a second but, honestly, these two guides should act as your Bible heading into this fantasy football season. Any question you could possibly have can likely be answered within those works of art, and they should put you on the path to the top of your league.
While this is just a jumping-off point, our crew will be here for you all year long, too. You have pressing lineup decisions or need to know whose stock is rising and falling throughout the season? They'll continue to have you covered.
Okay, let's dive a little deeper.
2. One deep sleeper on every team 😴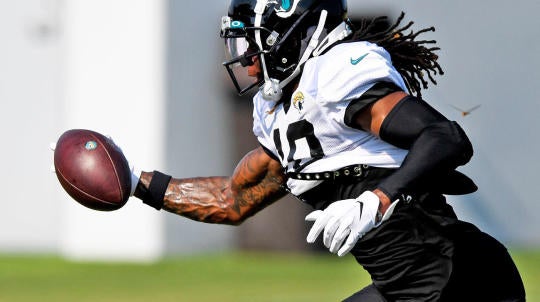 If there's one thing I'm not, it's a sleeper. I'm usually up into the wee hours of the night/morning either playing video games or writing the words you wake up to. But me and the permanent bags under my eyes, we can surely appreciate a great fantasy sleeper.
Snagging a nice sleeper pick in the late rounds can not only make you feel like an absolutely brilliant GM in your league of schmucks, it can also be the difference between a championship campaign and another disappointing finish. Those late-round steals often separate the pro fantasy players from the unworthy amateurs.
Fortunately, our Heath Cummings is gonna help you get some major value in the back half of your draft with his list of deep sleepers. He's picked one from each team, all with potential to deliver breakthrough contributions this year. Here's a brief sample of who he likes:
Laviska Shenault Jr., WR, Jaguars: "He's a versatile player who was used as both a runner and a receiver at Colorado, and Jacksonville has indicated they'll do the same."
Joshua Kelley, RB, Chargers: "The expectation for Kelly should be flex-type production, but it wouldn't be that surprising if he earned short yardage work at some point and worked his way into the top-25 discussion at running back."
Tua Tagovailoa, QB, Dolphins: "Last year we saw both Daniel Jones and Gardner Minshew start their rookie year on the bench and turn into quality low-end starters when their number was called. Like them, Tua Tagovailoa will start the year on the bench, but he has a much better pedigree, and a lot more upside"
You can check out the full list of sleepers right here, and you might find some surprising names as you scan down the list. Then again, if they weren't surprising, they wouldn't really be sleepers now would they?
3. Are these potential busts worth the risk? 🤔
Just like a sleeper can make your season, a big-time bust can potentially derail the campaign. That's why you always have to be wary of the guys who carry a little more risk on draft day, and we've got you covered on who to watch out for heading into 2020.
Jamey Eisenberg has turned on his bust radar and taken a look at some guys across the league who carry strong reputations but could be a threat to under-deliver. Eisenberg has evaluated the risk level and made a determination on whether certain players are worth a gamble.
Lamar Jackson, QB, Ravens: The last guy to repeat as the No. 1 fantasy quarterback in the league was Drew Brees in 2011-12. Eisenberg says Jackson's production may decline and he's not worth taking earlier than late second round (same with Patrick Mahomes)
Derrick Henry, RB, Titans: Henry was a monster on the ground last year but he lacks work in the passing game and he could be at risk for wear-and-tear with his huge workload. Eisenberg says don't touch him in Round 1
DeAndre Hopkins, WR, Cardinals: Eisenberg says Hopkins probably shouldn't go before Round 3 because of concerns about his target share with Cardinals receivers. He no longer believes Hopkins is a top-five fantasy receiver with the Cards
Nobody likes bustin' at the top of the draft, so make sure you read up on who could let you down.
4. Ranking the running backs 🏈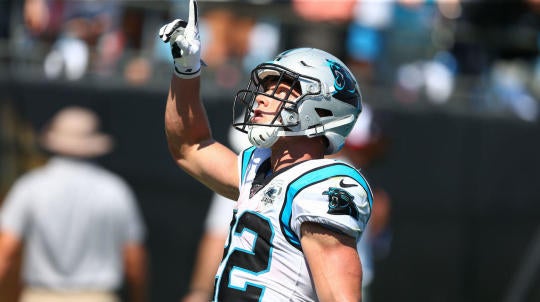 The NFL may not exactly be a running back's league anymore but fantasy football is still very much a running back's game. It's no secret that most fantasy team owners try and build their team around running backs, usually taking at least one within the first couple of rounds.
Dave Richard is our RB-obsessed fantasy expert, so there's nobody more qualified to deliver the 2020 running back tiers. Which backs should you look at drafting up top, and which can you afford to sit back and wait for later? Richard has a full guide for the classes of running backs in PPR, non-PPR and .5 PPR leagues.
Here's who he says worth taking in the first round in a PPR league:
Christian McCaffrey (elite)
Saquon Barkley (elite)
Ezekiel Elliott (elite)
Alvin Kamara (elite)
Dalvin Cook
Clyde Edwards-Helaire
Austin Ekeler
Derrick Henry
Joe Mixon
Miles Sanders
Josh Jacobs
You can find all the tiers right here.
📝 Odds & Ends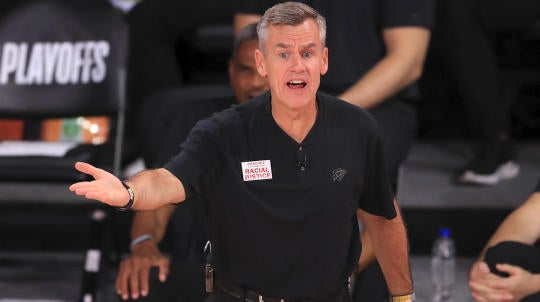 Billy Donovan and the Oklahoma City Thunder are parting ways
Leonard Fournette seems excited to play with Tom Brady, saying "for the first time in my life, I really have a quarterback." I mean, he's not wrong... but damn
Alex Rodriguez and Jennifer Lopez are still not giving up on their New York Mets ownership bid
A D-II college football player has died after complications from COVID-19
📺 What to watch today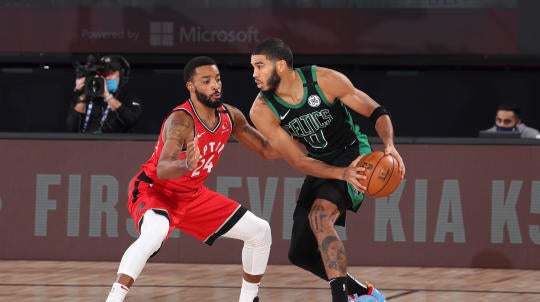 🏀 Raptors vs. Celtics, 6:30 p.m. | BOS -3.5 | TV: ESPN
🏒 Islanders vs. Lightning, 8 p.m. | TBL -170 | TV: NBCS
🏀 Clippers vs. Nuggets, 9 p.m. | DEN +8 | TV: ESPN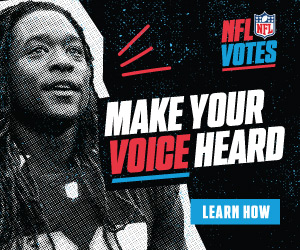 📝 Top scores from last night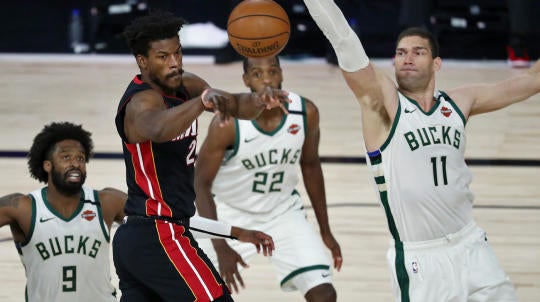 🏒 Golden Knights 3, Stars 0
Robin Lehner recorded his fourth shutout of the playoffs as the Knights evened the series at 1-1.
💵 Winning wagers: Golden Knights -161, Under (5.5)
🏀 Heat 103, Bucks 94
Jimmy Butler had 17 points and 10 rebounds as the Heat eliminated the Bucks and will move on to the Eastern Conference Finals.
💵 Winning wagers: Heat -5.5, Under (220.5)
⚾️ Blue Jays 2, Yankees 1
The Yankees continue to slide, losing their fifth in a row and 15 of their last 20 games to move to 21-21 on the season.
💵 Winning wagers: Blue Jays -105-126, Under (10.5)
 

24/7 Sports News

 

Parlay Pick'em

Want your sports news and highlights straight without the noise? Stream CBS Sports HQ on Roku, Amazon Fire TV, Apple TV, and more!
Watch Now


 

Enter Parlay Pick'em now for your free chance to win weekly cash prizes and the $20,000 guaranteed season prize.
Play Now

| | | | |
| --- | --- | --- | --- |
| FOLLOW CBS SPORTS | | | |