Email Not Displaying? Click Here
Monday, February 8, 2021
Hello, and welcome to a post-football world. Yes, that's right. As exciting as it was to see Tom Brady win his seventh Super Bowl title on Sunday night, and for Tampa to get its second Lombardi Trophy, it also means we won't have any football to watch for a while. Now, I understand that can be a scary proposition, but I promise you that we're going to get through it.
One day and three or four bets at a time.
While we turn the page on another NFL season, the world wonders where this latest title puts Brady in the pantheon of all-time great athletes. I did a radio hit on Monday morning and was asked about Brady's legacy, as well as the chances of Patrick Mahomes (or any other QB) ever being able to equal what he's accomplished. My initial instinct was to say no because, I mean, it's probably not going to happen! We're talking about one QB who has won more Super Bowls than any single franchise, and he's won Super Bowls with two different franchises. That's ridiculous!
But, more important than wondering if any other player can catch Brady, can we even be sure he's done? I mean, back in March, I wrote about how Tampa wasn't likely to get its money's worth with Brady. I've been deservedly dragged for this in the last 24 hours, but the lesson I've taken away from it is that we should never doubt Tom Brady about anything ever again. If he's playing, he's capable of winning another Super Bowl. He's not only the best QB of all time, but he might not be done yet.
Now, please, read these stories instead of the dumb things I may or may not have written in the past.
Five lessons other NFL teams can learn from the Bucs and Chiefs.
The 15 plays that defined the Super Bowl.
The parallels between Tom Brady and LeBron James.
Now, let's go blow our Super Bowl winnings.
All times Eastern, and all odds via William Hill Sportsbook
🔥 The Hot Ticket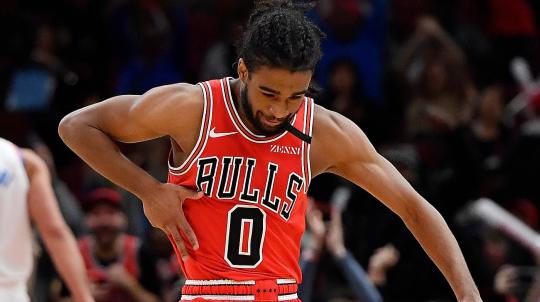 Wizards at Bulls, 8 p.m. | TV: League Pass
The Pick: Bulls Over 120.5 (-115): One of the more pleasant surprises about the NBA season has been how much more enjoyable my beloved Chicago Bulls are to watch. It's not that they're what anybody could consider good, but after having to watch them spend the last couple seasons under the "leadership" of Jim Boylen -- who has a legitimate case for the worst coach in professional sports history -- the sheer level of competency is refreshing.
I mean, this is a team that could flirt with a playoff spot, and they aren't getting embarrassed on a nightly basis. Right now, that's enough for me.
Tonight, I like their chances of putting up a big number against a Washington team that's been atrocious on the defensive end. The Wizards rank 31st in the NBA in defensive efficiency, and they've been especially bad as of late. In their last five games, the Wizards are allowing an average of 123.8 points per game, and even that number is a bit misleading thanks to a 103-100 win over a Heat team that put up 122 points on the two nights later. Also, the last time these two met, the Bulls put up 133 points.
Key Trend: The Wizards are allowing 123.8 points per game over their last five.
Here's what SportsLine is saying about the game: SportsLine's projection model generated selections for Monday's matchup between the Houston Rockets and the Charlotte Hornets.
💰 The Picks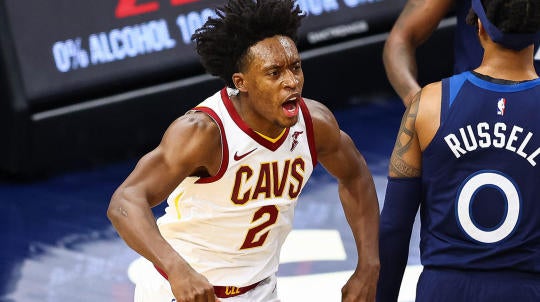 🏀 NBA
Cavs at Suns, 9 p.m. | TV: League Pass
The Pick: Cavs +7.5 (-105) -- I'm going against the grain on this one, as most early action on this game has favored Phoenix. That has caused this line to grow already, and it could be larger before tonight's tip. One reason I like the Cavs in this spot is that the Suns just played on Sunday, beating the Celtics, 100-91. This will be Phoenix's third game in four days. The Cavs are in the same spot, playing their third game in four days as well, but the difference is they had Sunday off after playing Milwaukee on back-to-back nights.
Also, after a hot start, the Cavs have cooled off. They've lost seven of their last nine, but five of those seven losses came to the Celtics, Lakers, Clippers and Bucks. It's hard to hold that against them, and I think this spread is doing just that.
Key Trend: The Suns rank 17th in the NBA in offensive efficiency, which isn't a trend, but is another reason why I don't want to trust them to cover a spread this large.
🏒 NHL
Oilers at Senators, 7 p.m. | TV: NHL.TV
The Pick: Over 6.5 (-125) -- Want to be part of a science experiment? I don't have much history betting hockey. It's always been a sport I enjoy watching, but not one I've ever been able to nail betting-wise. Well, I've been in the lab doing some work this season because, as the writer of this newsletter, I figured it was smart to have an extra club in the bag in case I might need it.
And I might've stumbled onto something. This is a system play. I will not tell you what the system is, but I can tell you that it shows promising early returns, and since there isn't a lot on the board tonight that I like, this fledgling system is making its newsletter debut today. #TrustTheProcess or don't. That's entirely up to you. Either way, I'll know more about hockey than Pete Blackburn soon enough.
Key Trend: The over is 6-1-1 in the last eight meetings.
🔒 SportsLine Pick of the Day: SportsLine's projection model generated selections for Monday's Atlantic Coast Conference contest between the Hurricanes and Tar Heels.
💸 The DFS Rundown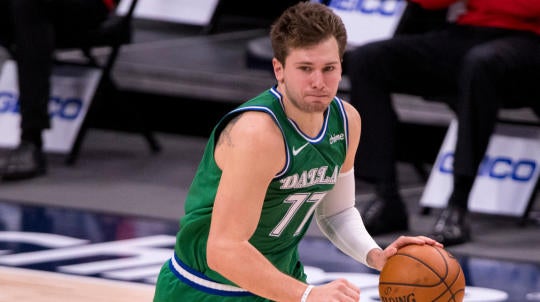 Star Plays
PG: Luka Doncic, Mavericks
SG: Zach LaVine, Bulls
SF: Gordon Hayward, Hornets
PF: Giannis Antetokounmpo, Bucks
C: Andre Drummond, Cavaliers
Value Plays
PG: Hamidou Diallo, Thunder
SG: Dillon Brooks, Grizzlies
SF: Denzel Valentine, Bulls
PF: Patrick Williams, Bulls
C: DeMarcus Cousins, Rockets
Full lineup advice
Get winning NBA DFS picks from SportsLine pros Mike McClure and Jacob Gibbs. McClure has won almost $2 million in daily Fantasy, while Gibbs crushed the NBA last season, cashing around 65 percent of the time in cash games and nearly 45 percent of the time in tournaments. See their DraftKings advice and FanDuel lineups here. 
 🏀 NBA Player Props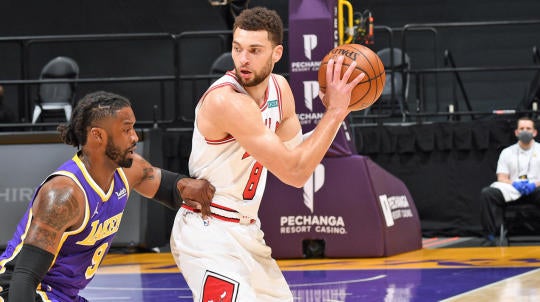 Cody Zeller Over 2.5 assists (+110)
Zach LaVine Total Points, Assists, Rebounds Over 40.5 (-125)
Thaddeus Young Over 4.5 assists (+110)
Josh Richardson Over 12.5 points (-115)

 

24/7 Sports News

 

Listen before you bet!

✔Scores & Highlights
✔Fantasy and Betting Advice
✔Interviews with Top Athletes

CBS Sports HQ has you covered. Stream anywhere, anytime, on any device.
Watch Now


 

Our new sports betting podcast brings you the best bets of the day in under 10 minutes by 11am ET. EVERY. SINGLE. DAY.
Download and subscribe!

| | | | |
| --- | --- | --- | --- |
| FOLLOW CBS SPORTS | | | |