Email Not Displaying? Click Here

Tuesday, July 7, 2020
On the off-chance that you're Patrick Mahomes... could I please have some money?
If you didn't spend your day yesterday landing a half-billion dollar contract, you're already playing from behind this week. Unfortunately, I'm very much on your team but we'll get through this together.
We'll get to Mahomes' mega extension in just a second here but I should mention that we also have plenty of other things to discuss, so prepare to strap yourself in because we're going full pedal to the metal this morning. I should also remind you that today is Tuesday, which means it's time to flood my inbox for tomorrow's mailbag 📪
For this week's mailbag prompt, send me questions that center around live events. It can be any sort of question about attending sporting events, concerts, festivals, theater shows/plays, etc. "Hamilton" is all the rage right now (again) and we all miss attending our favorite events, so I figured this would be a good opportunity to talk about it. Consider my mailbox (pete.blackburn@cbsinteractive.com) officially open.
Okay, are you ready to sit down with me and talk about how sad we are that we're not as rich as a certain Kansas City quarterback? *Sigh* Let's have at it then.
📰 What you need to know
1. Patrick Mahomes gets paid 💵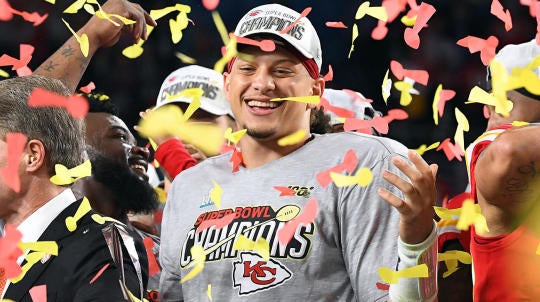 Most of us were out here just trying to survive the Monday after a holiday weekend but Patrick Mahomes... well, he is not most of us. Instead, Mahomes spent his Monday agreeing to the richest contract in the history of pro sports -- during the middle of a pandemic, no less.
The Chiefs quarterback reportedly inked an absolutely monstrous 10-year extension worth up to $503 million yesterday. So, uh, yeah... that's an insane amount of money. To put it in perspective: The previous richest contract in the NFL (in terms total money) was $150 million, signed by Matt Ryan last year.
Here are some other notes on the deal:
Mahomes was entering the final year of his original four-year, $16.4 million rookie contract (the Chiefs had also picked up his fifth-year option on that rookie deal)
The new contract will bring an average salary of $45 million per year and includes $141.48 million in total guaranteed money
Mahomes is the sixth player in NFL history to sign a 10-year deal (Brett Favre, Drew Bledsoe, Donovan McNabb, Daunte Culpepper, Mike Vick)
According to our Jason La Canfora, the 10-year extension will be guided by a mechanism that ensures the quarterback's annual salary never drops below certain cap thresholds (in other words, it will always be above a certain percentage of the NFL's salary cap)
It probably goes without saying that Mahomes will now become the highest paid QB in the league in terms of average salary (dethroning Russell Wilson) but he certainly isn't the only quarterback who's going to benefit here. I can guarantee Deshaun Watson, Dak Prescott and Lamar Jackson got the push notification on their phone yesterday and couldn't help but let a big smile slide across their face knowing they're next in line to cash in.
Of course, those guys aren't going to get quite as paid Mahomes -- at least they shouldn't -- but they're in for big money and Mahomes' deal just elevated the market significantly. It's a mega deal that might make Chiefs fans a little uneasy given the length and the large chunk of cap space it's going to eat up, but I'm sure they're willing to drown that out with the current excitement of knowing the best QB in the league is sticking around for the long haul.
It wasn't ALL good news for the Mahomes family on Monday, though. Tik Tok could soon be banned in the United States, so his younger brother may want to see if he can dance his way into a slice of that extension pie.
2. MLB releases schedule details ⚾️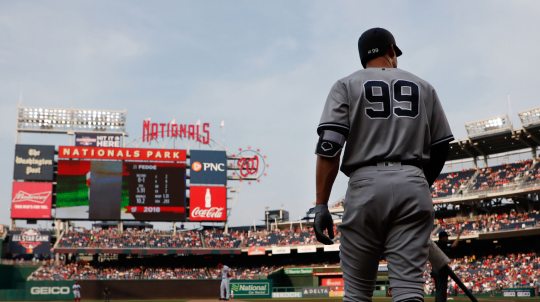 The 2020 MLB schedule was released yesterday, giving us our first official look at what will likely be the weirdest baseball season of our entire lives. With each team playing a 60-game slate exclusively against regional opponents this year, there was a lot of intrigue as to what the schedule would look like. Now we know.
Here are some things you should be aware of:
Yankees vs. Nationals (7 p.m. ET) and Giants vs. Dodgers (10 p.m.) will headline Opening Night on Thursday, July 23. The rest of the league's teams will play the following day. Our R.J. Anderson has graciously provided a comprehensive ranking of every Opening Day matchup
The Cardinals and White Sox will play at the "Field of Dreams" ballpark in Dyersville, Iowa (likely without fans). The Cards replace the Yankees in the game due to the regional-based schedule
The Twins (.449) have the easiest strength of schedule, followed by the Indians (.451), Cardinals (.475) and White Sox (.477)
The Marlins and Angels (.534) have the hardest strength of schedule, followed by the Orioles (.532) and Mariners (.531)
There will be imbalanced rivalry series in terms of home-away matchups. The Red Sox will play seven of their 10 games against the Yankees in New York, the Giants will play seven of 10 against the Dodgers in Los Angeles, and the Cardinals will play the Cubs at Wrigley in seven of 10
Our Mike Axisa has also ranked the most intriguing series of the season, so here are some to circle on your calendars:
July 23-26: Yankees at Nationals. Not only is the opening series of the year, but it's the Yankees (a World Series hopeful) vs. the Nationals (reigning World Series champs). Gerrit Cole vs Max Scherzer on Opening Night? Hell yes
July 24-26: Rockies at Rangers. Another season-opening series. There's almost no history between these two teams but there's plenty of significance to this series: It'll be the first ever played at the Rangers' brand new Globe Life Field
August 14-16: Dodgers at Angels. The first Freeway Series matchup of the year. There will be plenty of star power here, assuming Mike Trout decides to stick around for the season
August 21-23: Diamondbacks at Giants. This could be the first time that Madison Bumgarner pitches at Oracle Park as a visiting player. Two bummers about the potential return, though: There won't be any fans, and Bumgarner won't get to hit because of the universal DH
August 28-30: Athletics vs. Astros: Welcome back to Houston, Mike Fiers! It should be interesting to see how the Astros' whistle-blower is treated in his return to the scene of the crime
My biggest complaint about the schedule is the lack of unique start times for games. There are one or two mid-afternoon games on the league slate on most weekdays but, for the most part, we're seeing regular nightly start times (between 6:30-10 p.m.) With no fans allowed to attend games right now, I feel like MLB should be finding a way to run games almost all day just to maximize viewing options for fans during the pandemic. It'd be a nice way to introduce people to teams and players they might not otherwise watch during a normal season. Baseball on TV at 10 a.m. during a weekday? Why the hell not?
Unfortunately, the answer to that question has to do with maximizing TV revenue, and we know all too well how intent the owners are on keeping as much money as they can in their own pockets. Hey, owners... I will Venmo you $5 if you let a slate of 10 a.m/1 p.m./3 p.m./5 p.m./7 p.m./10 p.m. games happen.
Think about it.
3. Bubba Wallace responds to President Trump's 'hoax' accusation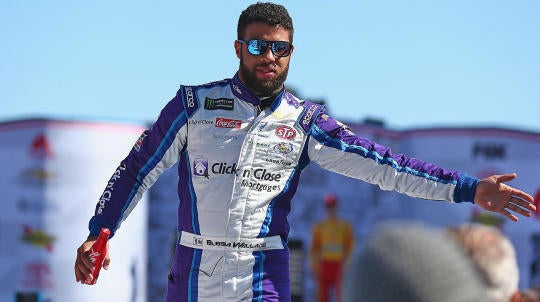 President Donald Trump fired up the Twitter machine and weighed in on a couple of big sports stories yesterday, including the Redskins and Indians potentially changing their team names, which many perceive to be insensitive to Native Americans. Trump lightly criticized the organizations for considering "changing their names in order to be politically correct."
But before he gave his take on that bit of news, he decided to go after NASCAR driver Bubba Wallace in wake of the noose incident last month. The racing world rallied around Wallace after a noose was found in the driver's garage at Talladega, leading to a nice show of unity and solidarity against racism at the track the following day.
But the FBI later found that no hate crime was committed, and the noose was instead an unfortunately fashioned garage door pull device that had been in the stall long before Wallace was assigned to it. The whole ordeal can probably be most accurately described as "an unfortunate misunderstanding" but, on Monday, Trump labeled it "a hoax" and asked Wallace to issue an apology.
Trump: "Has Bubba Wallace apologized to all of those great NASCAR drivers & officials who came to his aid, stood by his side, & were willing to sacrifice everything for him, only to find out that the whole thing was just another HOAX? That & Flag decision has caused lowest ratings EVER!"
(For what it's worth, FOX Sports' EVP says NASCAR ratings are up 8% since the sport's return from coronavirus shutdown.)
Wallace, who is NASCAR's only Black driver at the Cup Series level, has been fighting off claims of fabrication since the FBI's investigation, and he responded to Trump's accusation on Monday with a message of positivity directed toward kids:
Wallace: "You will always have people testing you. Seeing if they can knock you off your pedestal. I encourage you to keep your head held high and walk proudly on the path you have chosen. Never let anybody tell you [you] can't do something! God put us all here for a reason. Find that reason and be proud of it and work your tails off every day towards it! All the haters are doing is elevating your voice and platform to much greater heights! Last thing, always deal with the hate being thrown at you with LOVE! Love over hate every day. Love should some naturally as people are TAUGHT to hate. Even when it's HATE from the POTUS. Love wins"
NASCAR and the owner of Wallace's racing team, Richard Petty Motorsports, also provided a response to the President's tweet:
NASCAR: "We are proud to have Bubba Wallace in the NASCAR family and we commend his courage and leadership. NASCAR continues to stand tall with Bubba, our competitors and everyone who makes our sport welcoming and inclusive for all racing fans."
Andrew Murstein, president of Richard Petty Motorsports: "I find it hard to believe that the President would send out such a misinformed tweet. ... Bubba has reacted in a truthful, professional, level headed and positive manner. The NASCAR community, and those in the know all stand by him."
So, it seems safe to assume that apology isn't coming, mainly because one isn't necessary.
4. NHL and NHLPA extend CBA, set dates for return 🏒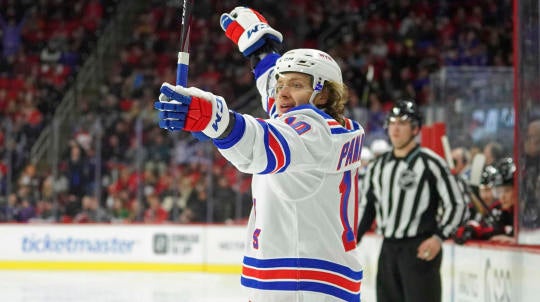 The NHL's Return to Play plan seemingly took a big step forward yesterday when it was announced that the league and the NHLPA agreed on two big things: An extension for the current CBA, and the official protocols for the upcoming stages of resumption.
The sides have agreed in principle to a four-year CBA extension, meaning it will run through the 2025-2026 season
Protocols for Phase 3 (full team training camps) and Phase 4 (resuming the season) have been established, including coronavirus testing practices and hub guidelines/restrictions
The new CBA has not been officially ratified yet. The vote is expected to happen in the next 3-5 days
Players will have a three-day window to opt out of Phases 3 & 4 following the ratification of the CBA
The CBA was seen as the biggest hurdle in the way of the league's return (you know, aside from the pandemic itself) and the extension will allow both sides to maneuver the financial difficulties presented by the pandemic. According to ESPN, the salary cap will very likely be impacted by revenue shortcomings this year, and players may be asked to defer salary next season, with that money being paid back over the additional years tacked on to the current CBA.
It was also announced that the league has set target dates for the upcoming phases:
July 13: Phase 3 (training camp) begins
July 26: Teams travel to hub cities (Eastern Conference will play in Toronto, Western Conference will play in Edmonton)
August 1: Postseason qualifying round begins
These dates are tentative at the moment and subject to change based on how things develop in the coming days and weeks. This is the part where I mention that there's still plenty of uncertainty when it comes to coronavirus and resuming sports during the pandemic -- especially a close contact sport like hockey. We've seen a bunch of positive tests across the league and several teams have already canceled practices due to concern over spreading the virus. It seems like we're walking on a tightrope here.
In any case, at least we now know that it takes a global pandemic to prevent the NHL from going into another labor strike.
📝 Odds & Ends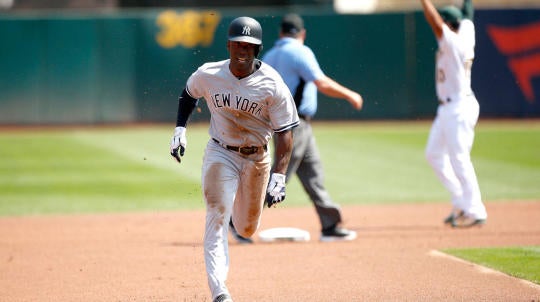 The NFL has a plan for what would happen if a player tested positive for coronavirus leading up to the Super Bowl
Andrew McCutchen criticized the Yankees' hair policy and says "it takes away from our individualism"
FC Dallas has pulled out of the MLS is Back Tournament after multiple players tested positive for COVID-19
 

24/7 Sports News Network

 

Golf Props

Sports news without the yelling and fake debates. Stream CBS Sports HQ for nonstop highlights, analysis and picks. Watch for free on all of your devices.
Learn More


 

Play along with this week's golf action and compete to win $1,000 each round with CBS Sports Golf Props. Answer some quick questions and you're in contention for the cash! Join any round for your chance to win.
Play Now

| | | | |
| --- | --- | --- | --- |
| FOLLOW CBS SPORTS | | | |