Email Not Displaying? Click Here

Monday, August 3, 2020
Good morning and welcome back! I'm happy to see you again, even if it is another one of those Mondays we're supposed to hate. I'll tell you what, though... Mondays are a lot easier to swallow when we've got a full day of sports to help get us through.
You see these bags under my eyes? No, they're not designer, they come courtesy of non-stop hockey this weekend. No joke, I watched about 24 hours of hockey over the past two days and this is the happiest I've ever been to look like a complete pile of garbage. And guess what? We've got about 12 more hours in store today, so it only gets better (and I'm only going to look worse). POUR THE COFFEE INTO MY EYES AND LET'S GO.
But I know you lean on me for more than just hockey, so don't you worry. I've still got you covered with all the other big stuff going on around sports right now. It was a busy weekend and we've got a lot to catch up on so please try to match my excitement level as we head into another glorious week.
Let's crush it together.
📰 What you need to know
1. Power Five and NCAA heading for a split? 🏈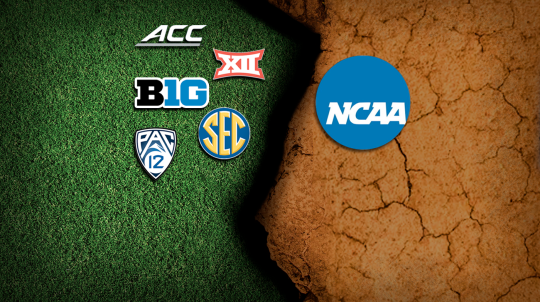 Not long ago, we discussed the idea of the college football's Power Five conferences operating independently from the NCAA. At the time, our columnist Dennis Dodd said it was not only a possibility but it might even be likely, especially after the pandemic took an economic toll on the NCAA.
Well, now we're at the point where it might be inevitable, according to Dodd.
The Power Five is interested in staging their own championships in fall sports (other than football) if the NCAA decides to cancel those championships this week
The NCAA Board of Governors will vote on the issue tomorrow, and if they vote to cancel fall championships then it could set in motion a chain of events that ultimately leads to the Power Five operating independent of the NCAA
The NCAA does not sponsor or control championships for the 130 FBS teams. The football championships are managed by the 10 FBS conferences, ESPN and the College Football Playoff
It probably wouldn't be the best look for the Power Five conferences if the NCAA canceled the rest of the fall sport championships and those conferences then powered through to hold the football title games anyway. But you could also just as easily argue that it's not a good look for the Power Five to host their own championships simply to justify moving forward with football.
Ultimately, I suppose it comes down to whether it's logistically possible for the conferences to hold the championships safely and smoothly. Also, money. It always comes down to money, too.
Dodd: "There is a basic distrust among key stakeholders in the Power Five who believe the NCAA just can't handle this situation. At the time, there wasn't total agreement among the conferences that the NCAA should have canceled all spring championships in March. Sources confirmed to CBS Sports that the Power Five conferences have the financing necessary to stage those championships on their own. The NCAA? It may not be able to afford them, especially after the fiasco from March. No doubt, the NCAA did the right thing by cancelling its Division I basketball tournament in the face of the pandemic. However, the association may have been woefully unprepared financially when the tournament was called off, according to the Washington Post."
Whatever happens in the next couple days could have major implications for the future of college football, both in the short term as well as the long term.
2. Yoenis Cespedes opts out in bizarre fashion ⚾️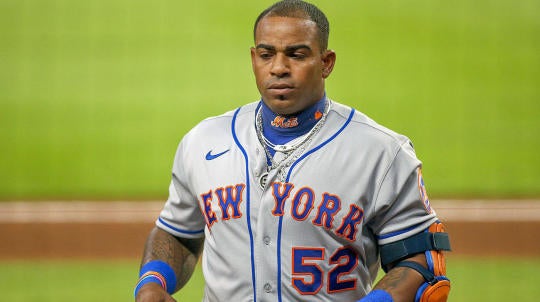 We've seen plenty of athletes opt out of their respective sports due to concerns over the pandemic at this point, but none of those athletes have done so in as bizarre (and as concerning) a fashion as Yoenis Cespedes this weekend.
The Mets outfielder wasn't in the lineup for Sunday's game against the Braves, but it was initially believed to be a routine off-day. However, things got a bit weird soon after first pitch.
Early in the game, the Mets announced that Cespedes didn't report to the ballpark and the team couldn't reach him
Cespedes didn't reach out to management with an explanation for his absence. The team sent security to his hotel and found his room cleaned out
After Sunday's game, it was confirmed that Cespedes had opted out of the 2020 season
Mets GM Brodie Van Wagenen: "We will support him in that decision. It was surprising, without question"
Mets manager Luis Rojas: "It went from a concerning pregame to finding out what happened and then obviously supporting his decision"
First thing's first: Thank goodness Yo is safe. There was a period of a few hours where we had to worry about his well-being and a lot of Twitter chatter immediately jumped to the worst-case scenario, and that was unsettling.
Secondly, Yo is well within his right to opt out and it's a decision we have no choice but to respect, especially with the mess that MLB is trying to work through at the moment. Considering the Mets play in the NL East, where most of that mess is taking place, it's hard to blame Cespedes for re-evaluating his situation.
However, I think it's fair to say this could have been handled better. Make a phone call. Send a text. Leave a note. Post a tweet. Run through the streets shouting at the top of your lungs. Do ANYTHING other than literally disappearing without a trace. That's scary as hell.
Oh jeez, I just realized I'm finally turning into my parents. You know how many times I got the "you couldn't have just given me a call? I was worried sick about you" after an out-of-control night with friends? Yoenis is out here making me feel guilty about being a bad son.
3. Pac-12 players threaten to sit out 2020 season 🏈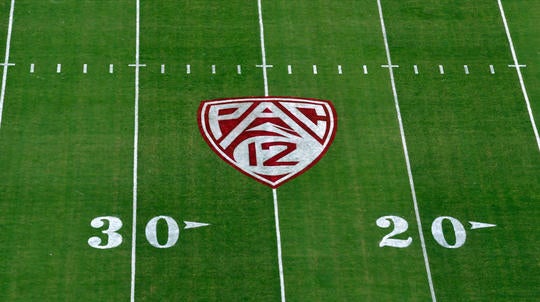 Speaking of players opting out, an entire group of Pac-12 football players are threatening to sit out the upcoming college season (if there is one) while they lobby for change. Those players have laid out a list of demands that range across a number of areas. Let's dive in:
Health and safety precautions: The players are demanding the option to not play football during the pandemic without risk of losing eligibility or their roster spot. They also want to prohibit/void any COVID-19 agreements that waive liability on the school's behalf
Protection of all sports: The players are asking that all schools eliminate "excessive expenditures" (such as lavish facilities and bonuses) and implement pay cuts among commissioners, administrators and coaches in order to help fund/protect other sports
Racial injustice: The players are requesting "a permanent civic-engagement task force...that will help address outstanding issues such as racial injustice in college sports and in society." Players also want 2% of conference revenue to go toward supporting financial aid for low-income Black students and other development programs
Medical coverage and expenses: Players are seeking guaranteed medical expense coverage for those who suffer sports-related medical conditions (including those related to COVID-19) and they want coverage to last six years after athletic eligibility ends. Players also want fair market pay and to be able to make money off use of their name, image and likeness rights
You can find more details of those demands right here.
There's been plenty of people pushing for more equitable treatment of college athletes across the country for years but this seems like it could be a pretty important moment in that regard. It's not known exactly how many players are involved with this movement but it could be hundreds, from several different schools across the conference.
This is a really weird and vulnerable time for college football as a whole, so maybe now is the perfect time to strike if you're the players that want to see change.
4. Justin Thomas wins WGC-St. Jude Invitational 🏌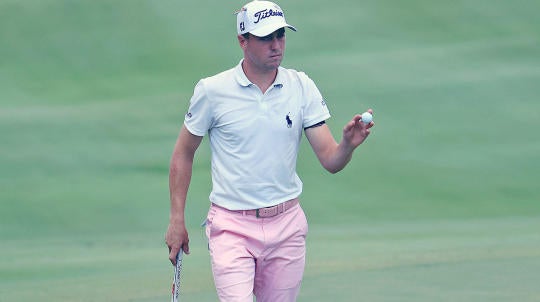 How about Justin Thomas, huh? JT won the WGC-St. Jude Invitational for the second time in three years, clinching the event by shooting a 65 on Sunday to finish 13-under on the weekend.
It continues a pretty remarkable run for Thomas, who has already won three events this season and reclaims the world No. 1 ranking ahead of the PGA Championship. It was the 13th win of his career, and you want to hear something pretty stunning? Over the past six decades, only two players reached 13 career wins at a younger age than the 27-year-old Thomas. Those two players? Jack Nicklaus and Tiger Woods. Not bad company.
Here's our Kyle Porter on Thomas' trajectory:
Porter: "We don't talk about Thomas like this very often, but the numbers here are all-time good. He needs to win more majors, absolutely, but to go 13 wins in your first 152 PGA Tour starts is almost unfathomable (non-G.O.A.T. division). It almost feels like we blinked and J.T. ran past Jordan Spieth (11 wins) with Rory McIlroy (18 wins) and Dustin Johnson (21 wins) now in his sights... Thomas is going to emerge 10 or 15 or 20 years from now as one of the best of his (or maybe any) generation to tee it up."
Despite all that, is he somehow still underrated? It kind of seems like it, right?
You can check out the full WGC-St. Jude leaderboard right here.
📝 Odds & Ends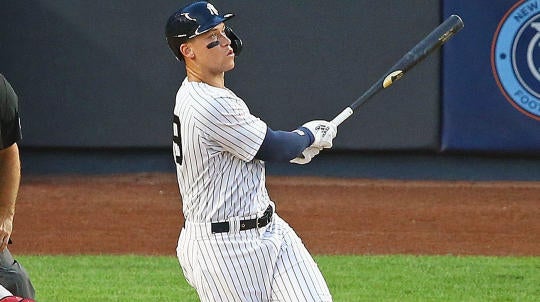 Somehow hockey has had better buzzer-beaters than the NBA so far. The Avalanche won in spectacular fashion last night when they scored a game-winning goal as the clock struck :00.0
Aaron Judge homered twice on Sunday night (his fifth straight game with a HR) and has joined elite company with this current binge
The Eagles confirmed that coach Doug Pederson tested positive for COVID-19
Winnipeg Jets coach Paul Maurice accused Matthew Tkachuk of intentionally injuring Mark Scheifele with a "filthy, disgusting" play
Joe George may have had the KO of the year with a vicious uppercut to Marcos Escudero
📺 What to watch today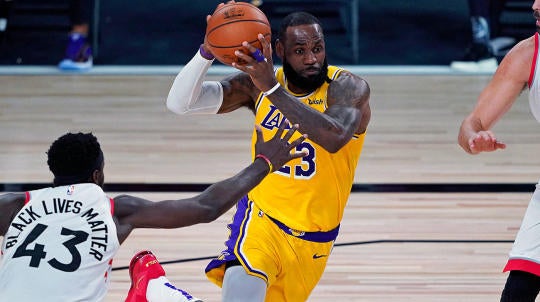 🏒 Rangers vs. Hurricanes, 12:00 p.m. | CAR -146
⚾️ Phillies vs. Yankees, 7:05 p.m. | NYY -350
🏀 Lakers vs. Jazz, 9:00 p.m. | UTAH +6
🏒 Blackhawks vs. Oilers, 10:30 p.m. | EDM -140
📝 Top scores from last night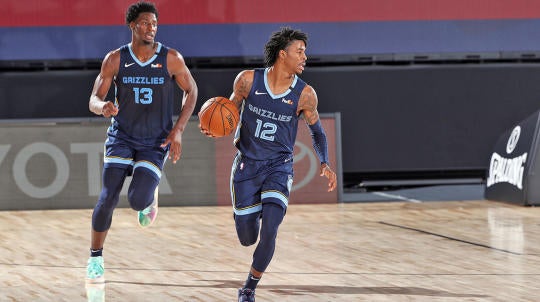 🏀 Spurs 108, Grizzlies 106
DeMar DeRozan made two free throws with a second to play to give San Antonio the win, and they move into 9th place in the West. Ja Morant finished one rebound and assist shy of a triple-double (25-9-9).
💵 Winning wagers: Spurs (+131), Under (236)
🏒 Blue Jackets 2, Maple Leafs 0
Columbus stifled an explosive Leafs team in the first game of their play-in series, holding Toronto without a shot over the final seven minutes of the game.
💵 Winning wagers: Blue Jackets (+143), Under (5.5)
⚾️ Cubs 2, Pirates 1 (11 innings)
Javy Baez drove in the game-winning run in the 11th inning after the game was delayed by more than an hour due to rain.
💵 Winning wagers: Cubs (-183), Under (9)
 

PGA Championship

 

Golf Props

Follow all of the 2020 PGA Championship action live at PGAChampionship.com and download the official app for iOS and Android.
Learn More


 

Join our challenge and compete to win guaranteed cash prizes in every tournament. Answer some quick questions and you're in contention for the cash! Join any round for your chance to win.
Play Now

| | | | |
| --- | --- | --- | --- |
| FOLLOW CBS SPORTS | | | |