Email Not Displaying? Click Here

Wednesday, August 19, 2020
Hey there, it's me again. Happy Wednesday to you and welcome back to our shared sports sanctuary.
We've got ourselves a great newsletter this morning. Not only do we have some shocking NBA upsets to discuss this morning, we're also going to talk a little college football (and not just the complete mess surrounding college football, for once) as well as some Champions League and, yes, even some "unwritten rules." Consider yourself warned: A rant is coming your way.
We'll get to those things in just a second here, but first I wanted to give you a bit of housecleaning heads up: We usually do a mailbag on Wednesday but that's being put on hold for the time being. The mailbag was started as a way to help give us stuff to talk about (and to help you get to know me a little better) while everything was shut down.
With sports back in full swing and plenty of content to cover, the mailbag can afford to be put on pause. That being said, if you have questions or feedback I would still love to hear from you. Feel free to hit up my inbox (pete.blackburn@cbsinteractive.com) or reach out on Twitter and let's chat.
Okay, I promised you a great newsletter this morning and I'm ready to deliver. Let's rock.
📰 What you need to know
1. Takeaways from the Lakers and Bucks losing their Game 1s 🏀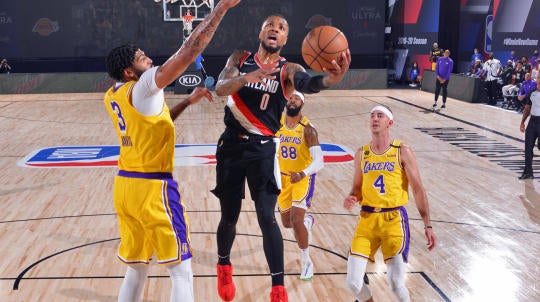 Well, Day 2 of the NBA Playoffs is in the books and to say it brought some surprises would be a significant understatement. Tuesday's slate brought four total games, including the postseason opener for each conference's top dog -- the Bucks in the East and the Lakers in the West.
They both lost their Game 1s in rather stunning fashion.
Let's start with Milwaukee, who were rather soundly defeated by the Orlando Magic, 122-110. Yes, the same Magic that entered the game with +867 odds on the money line. Massive congrats to you if you happened to have that ticket.
Here are Michael Kaskey-Blomain's takeaways from that stunning game:
Where was Milwaukee's defense? The Bucks had the league's best defense during the regular season but you wouldn't know it from their showing on Tuesday. Orlando's unspectacular offense put up 122 points while shooting 49 percent from the field and 39 percent from 3-point range
Nikola Vucevic was the best player on the floor: Vucevic had a dominant showing for the Magic, dropping a game-high 35 points (including five 3-pointers) and grabbing 14 rebounds
Solid Magic postseason debut from Markelle Fultz: Even with the pressure of his playoff debut with the Magic, Fultz continues to impress and look comfortable in Orlando's system. He finished the game with 15 points, six assists, and two rebounds in 29 minutes of action
Misery loves company, so the Bucks must have been pretty grateful that the Lakers also decided to stink up the joint in Game 1 against the Trail Blazers last night. Portland, who entered the game as +228 underdogs on the money line, put on a show and topped Los Angeles, 100-93.
Our Sam Quinn has your takeaways for that one:
It's time to fix the rotation: Specifically, the Lakers need to stop playing Javale McGee. Consider these numbers Quinn pulled...

Quinn: "The Lakers were outscored by nine points in JaVale McGee's 13 minutes on the floor. They lost the game by seven points. That isn't a coincidence. The Lakers were outscored during McGee's minutes in all seven of his appearances in the bubble. In Orlando, they have now been outscored by 66 points in his 121 minutes on the floor. They've outscored opponents by 26 points in the minutes they've played without him.
This isn't rocket science."

LeBron James was great... but in the wrong ways: James had 23 points, 17 rebounds and 15 assists while playing great defense, so it's hard to put a ton of blame on him. But, at the same time, the Lakers only scored 93 points and they struggled to get going offensively. If that's going to be a trend, LeBron needs to do a better job of putting the team on his back and create shots when no one else will
The Blazers got away with playing two centers: After Wenyen Gabriel got into early foul trouble, the Blazers paired their two centers, Hassan Whiteside and Jusuf Nurkic, together. Neither of those guys can shoot well or defend the perimeter well, but they were strong when it came to crashing the boards and protecting the rim. It may not be a sustainable strategy but it worked in Game 1, even if it was by accident
As for Damian Lillard, he went for a game-high 34 points in the win. Honestly, it feels like there's a good chance it could be his lowest output of the series based on the way Dame's been playing lately.
Now the biggest question that's left to be answered is whether these upset wins were just an early aberration and blip on the radar for the top-seeded conference powers. Will they find better execution and make the necessary adjustments to clean up their act, or are they truly being threatened already in the first round?
2. Preseason college football rankings: The top 76 teams 🏈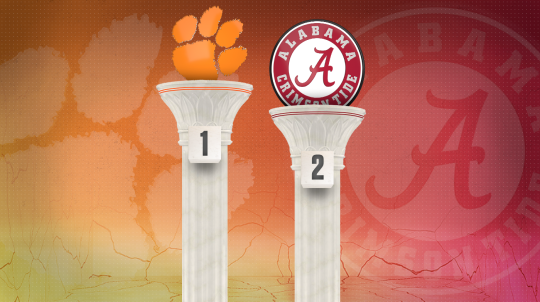 We've spent quite a lot of time discussing college football around these parts, especially over the past few weeks, but very little of that discussion has centered around the actual football side of things. That's pretty understandable considering we're not even sure if there's going to be a football season this fall.
But with certain conferences insisting that they're going to try to play and those scheduled start dates slowly creeping up, for now we have to move forward under the assumption that we're going to get at least some college football in 2020.
With that in mind, our CBS Sports college football crew has put out their preseason team rankings this week. Normally, the comprehensive ranking includes all 130 FBS teams to provide an unparalleled level of depth when it comes to the college football landscape. But, as you already know, not all 130 teams are playing this fall. As such, we now have the CBS Sports 76 -- a ranking of the 76 teams that still currently have plans to play in the coming months.
Here's what the top 10 looks like:
Clemson
Alabama
Oklahoma
Georgia
Florida
LSU
Notre Dame
Auburn
Texas A&M
Oklahoma State
Clemson may be at the top but the SEC presence is really felt in that top 10, huh? Six of the remaining nine teams come from SEC territory, which I guess shouldn't really come as a huge surprise -- especially in a thinned field.
And because we love a little schadenfreude around here, congratulations to UTEP for having the worst surviving team in the country. Suddenly that Week 1 matchup vs. my Texas Longhorns is looking like a mighty delicious tune-up, if it ever even happens.
For now, it's nice to look at a rankings list and feel like we're approaching some semi-normalcy -- even if you want to call it naive or pretend normalcy.
3. PSG advances to first Champions League final | Best bets for Bayern Munich vs. Lyon ⚽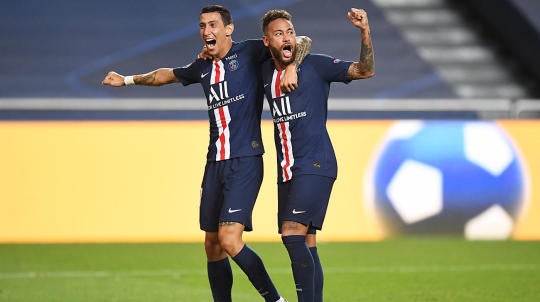 One-half of the Champions League final is officially set. Yesterday brought a semifinal showdown between Paris Saint-Germain and RB Leipzig, and the French side won 3-0 to advance to its first Champions League final in club history.
The Parisians got goals from Marquinhos, Angel Di Maria and Juan Bernat
Our Roger Gonzalez rated Di Maria as the standout performer after the midfielder recorded a goal and an assist on the day
Neymar was held off the score sheet once again (though he did almost score a goal on a long free kick) but he looked great
This is a big step for PSG, as they've now got a great chance to shed their label as a club that consistently fails to deliver at the top level of European competitions . They'll move on to the Champions League final this Sunday.
The other semifinal gets underway today at 3 p.m. on CBS All Access and it'll feature Bayern Munich taking on Lyon for the right to challenge PSG later this week. Obviously, Bayern is a huge favorite in the game considering they've been the most dominant team in the world for a little while now, but Tom Fornelli has you covered with three alternate bets that carry more value in today's match.
4. MLB players rip baseball's 'unwritten rules' ⚾️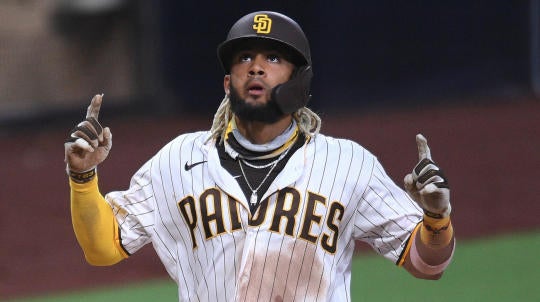 It seems that there's nothing the sport of baseball loves more than standing in its own way. The latest example of that came this week when Padres star shortstop Fernando Tatis Jr. -- one of the most exciting young players in baseball -- hit a grand slam to break Monday night's game vs. the Rangers wide open. But wait:
Tatis apparently violated the "unwritten rules" of baseball when he swung at a 3-0 pitch in the 8th inning while his team held a seven-run lead.\
The home run irked a bunch of baseball stiffs who thought that Tatis should have to take a pitch in that situation. Even his own manager, Jayce Tingler, seemed to take issue with Tatis on Monday night when he said in the post-game presser that the moment was a "learning opportunity" that Tatis will need to use to grow
Tinger clarified Tuesday that he was specifically talking about Tatis ignoring his 3-0 take sign.)
The Rangers were so bothered by Tatis' audaciousness that they decided to intentionally throw at the Padres' next batter, Manny Machado. (Rangers pitcher Ian Gibaut was suspended three games and manager Chris Woodward was suspended one game for the retaliation.) This whole ordeal re-ignited a futile debate about baseball's unwritten rules and their worth. A number of current and former MLB players weighed in on the Tatis controversy yesterday, with a whole lot of them siding with Tatis.
To me, it's pretty simple:
I don't care about unwritten rules. These are professional athletes and the primary functions of their job are to perform and to win -- it's not to protect their opponent's feelings. If you don't want a guy to blast a homer off of you, don't work yourself into a 3-0 count and then try to groove a fastball down the plate. You'll deserve what you have coming to you, regardless of the inning or score.
And the league should never be actively trying to suck entertainment value out of the game, which is what some of these unwritten rules seem to aim for. Would you rather see a guy take a strike or smash a grand slam? Tough call there.
Not to mention the fact that these players are typically paid based on their statistical production, so why should Tatis (who is playing on a rookie deal, mind you) give up a home run and four RBIs to watch a strike zip by him? Unless the team is planning on compensating him for those surrendered opportunities (spoiler alert: they're not), then that's just bad business for the player.
Stop being so damn soft, baseball.
📝 Odds & Ends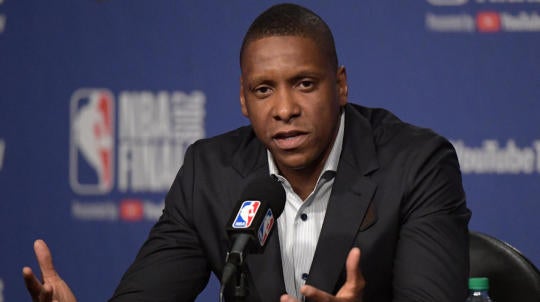 Body cam footage of the altercation involving Raptors president Masai Ujiri and an Oracle Arena security guard after Game 6 of the 2019 NBA Finals was finally released yesterday. Ujiri's legal team is now arguing claims against him are baseless
Twins pitcher Kenta Maeda fell three outs short of MLB's first no-hitter of 2020
The 10 biggest questions that will be left unanswered thanks to the NFL's lack of preseason games
📺 What to watch tonight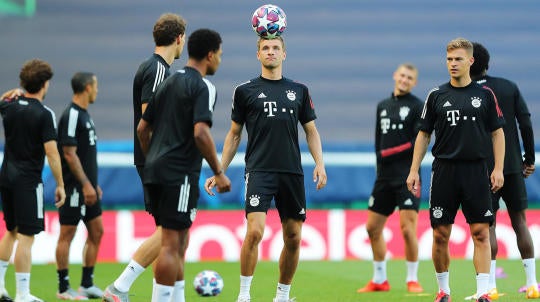 ⚽ Champions League: Bayern Munich vs. Lyon, 3:00 p.m. | Bayern -470
🏀 76ers vs. Celtics, 6:30 p.m. | BOS -4.5
🏀 Mavericks vs. Clippers, 9:00 p.m. | LAC -6.5
⚾️ Rangers vs. Padres, 9:10 p.m. | SD -121
🏒Canucks vs. Blues, 10:30 p.m. | STL -145
📝 Top scores from last night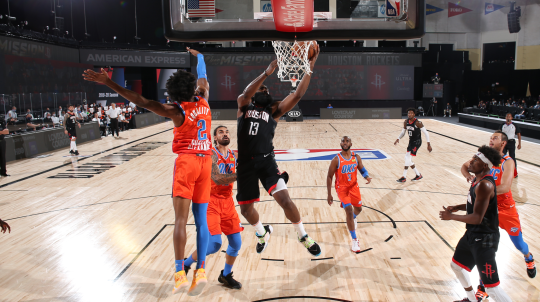 🏒Capitals 3, Islanders 2
Washington got two goals from Alex Ovechkin and climbed out of an early 2-0 hole to avoid a sweep and extend their season.
💵 Winning wagers: Capitals (-100), Push (5)
🏀 Rockets 123, Thunder 108
James Harden had 37 points and 11 rebounds to roll past his former team in OKC and give the Rockets a 1-0 series lead.
💵 Winning wagers: Raptors (-9.5), Over (222.5)
⚾️ Blue Jays 8, Orioles 7 (10 innings)
Toronto blew a four-run lead but eventually pushed past Baltimore on the strength of an Orioles throwing error in the 10th inning.
💵 Winning wagers: Blue Jays (-124), Over (9.5)
🏒Golden Knights 4, Blackhawks 3
Vegas quickly erased an early 2-0 deficit and defeated Chicago to move on to the Western Conference semifinals.
💵 Winning wagers: Golden Knights (-225), Over (5.5)
 

UEFA Champions League

 

Football Pick'em

CBS Sports is the new home of the UEFA Champions League. Stream every match through the Final on August 23rd on CBS All Access.
Learn More


 

Start your own custom pick'em pool to compete against friends or play solo for the chance to win $1,000 in guaranteed cash every week!
Play Now

| | | | |
| --- | --- | --- | --- |
| FOLLOW CBS SPORTS | | | |