Email Not Displaying? Click Here

Friday, June 26, 2020
Happy Friday fellow sports fans! 👋
Hopefully you all wished Pete a happy birthday yesterday and if not, there's always next year. For those new to the newsletter, I'm Pete's trusty backup Shanna McCarriston and I take over when he abandons us to drink or play video games into the wee hours of the morning.
We have a lot of sports to get to today, because (don't look now) we are actually seeing a normal schedule of games on the horizon. That is if all return plans go as scheduled, of course. I'm choosing to be optimistic.
This also means pretty soon I can stop creating new quarantine hobbies and get back to doing what I do best: sitting on the couch, eating and watching people compete. It's my calling. But enough about my lazy habits, let's get to everything you need to know heading into the weekend.
📰 What you need to know
1. Will college football teams report positive COVID-19 tests? 🏈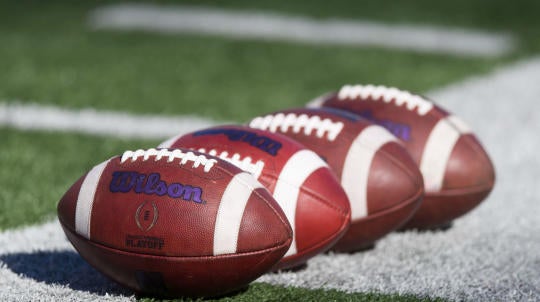 The coronavirus pandemic is still a very real threat in the United States and at the same time, sports are slowly starting back up. That has that potential to put college football programs in a moral dilemma.
Our CFB know-it-all Dennis Dodd spoke to people around the sport about how teams are wrestling with the ethics of reporting players who test positive for the virus during the season. While the NFL requires coaches to share weekly injury reports, college football does not, which raises the big question as we head into a season unlike any other.
Traditionally, college football teams keep injury information to themselves to not let opponents get a heads up on which players may not be on the field. The complexity of COVID-19, paired with the competitive nature of teams wanting to win, could make for complications down the line and already has people across the sport disagreeing.
TCU coach Gary Patterson: "We're not going to play [opponents] if they don't tell us [about COVID-19 positives]. We're not putting anybody in jeopardy on our sideline or anybody else"
An anonymous North Carolina athletic official: "We are not telling anyone who -- or how many -- UNC football players test positive. We would simply say that they are out right before the game starts"
TCU AD Jeremiah Donati: "Let's be honest, this is the type of year you're going to need any advantage you can [get]. You may be down a few guys, but if you can spring it on your opponent that, 'Hey, we're playing the second-string quarterback you've never seen who is a runner and not a thrower,' it doesn't have any health or safety impact. I can imagine a coach saying he wants to keep that information proprietary."
Half of the 66 FBS schools said they would not disclose how many of their players tested positive, but some coaches, like TCU's Patterson, say they will not play a team unless they know how many opposing players are sick or asymptomatic.
When it comes down to it, many coaches, pandemic or not, are still going to use every advantage they have to keep their opponent guessing. It's not yet known if the NCAA would get involved in cases where teams were hiding information.
2. NASCAR releases photo of rope fashioned as noose that was found in Bubba Wallace's garage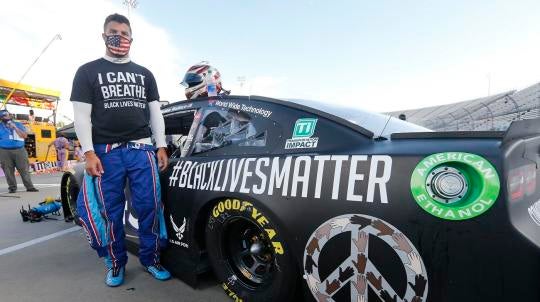 NASCAR has dominated news of late after an alleged noose was found in Bubba Wallace's garage during a race at Talladega Superspeedway earlier this month. On Thursday, the clearest photo of the rope was released to the public by NASCAR.
NASCAR said they scanned 29 tracks and 1,684 garages after a crew member noticed the suspiciously tied rope pull ahead of the Geico 500, and found that only 11 garages had knots. Only one of those resembled a noose: the one in the garage assigned to Wallace.
From Steve Phelps, the president of NASCAR: "Upon learning of and seeing the noose, our initial reaction was to protect our driver. We're living in a highly charged and emotional time"
The photo release and new info come after the FBI investigated the situation earlier this week. They ultimately deemed that no hate crime was committed against Wallace, which confused many yesterday when the clearest photo of the rope showed that it clearly looks like a noose.
Regardless of what the investigation found, Wallace has been adamant about his feelings. While speaking to CNN this week, he said that whether the rope was intended for him or not, it was still a noose.
3. Travelers Championship leaderboard heading into the weekend 🏌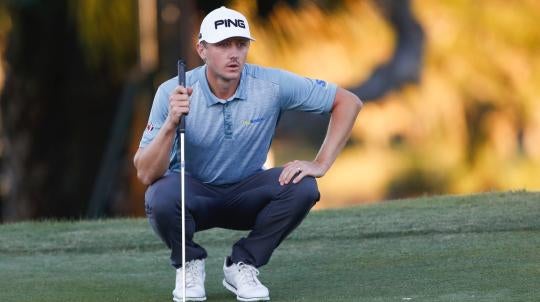 Seems like just yesterday we were all begging for golf to be back and now we're already well into its return. Time flies when every day feels the same because you're in a pandemic, am I right?!
We all get to enjoy the Travelers Championship this weekend and CBS Sports' own Kyle Porter has takeaways from Round 1. Heading into the weekend, here is a snapshot of the leaderboard:
1. Mackenzie Hughes (-10)
T2. Rory McIlroy, Xander Schauffele, Viktor Hovland (-7)
T5. Phil Mickelson, Michael Thompson, Sergio Garcia, Tyler Duncan, Seung-Yul Noh, Louis Oosthuizen (-6)
T11. Russell Henley, Tyler McCumber, Bryson DeChambeau, Brian Stuard, Rafa Cabrera Bello (-5)
T31. Jordan Spieth (-3)
T79. Dustin Johnson (-1)
As you can see, it's another loaded leaderboard heading into the weekend of a PGA event. That has become the norm since the sport resumed. Even though he is three shots back of Hughes, it is McIlroy's match to lose at this point, according to Porter.
4. What to gamble on this weekend 💵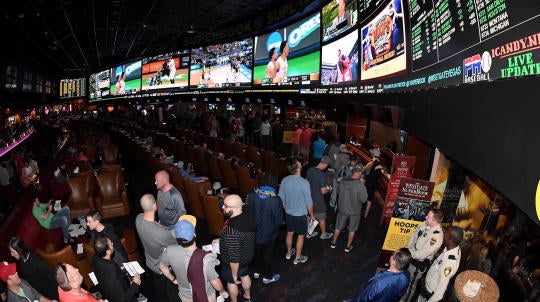 I'm far from a gambling aficionado, but thankfully our friends at SportsLine are experts, and they let me in on everything you should bet on this weekend. Let's make you rich.
Here are some picks should consider running with:
UFC: Fight Night: Austin is tomorrow and its loaded card features a battle between third-ranked Dustin Poirier (-220) and fifth-ranked Dan Hooker (+180) for the main event. SportsLine's Kyle Marley is nothing short of a UFC betting wizard, and has nailed 11 straight main-event winners entering Saturday's fight night, including five upsets. He's provided picks for the main card and all the other fights here.
NASCAR: SportsLine's proven model has given us their picks for this weekend's rare double header at Pocono Raceway. Take a look at the surprising leaderboard from the simulations for the Pocono Organics 325. Former Vegas bookmaker Micah Roberts also gave his expert picks for Saturday's race and you can check out his predictions here.
📝 Odds & Ends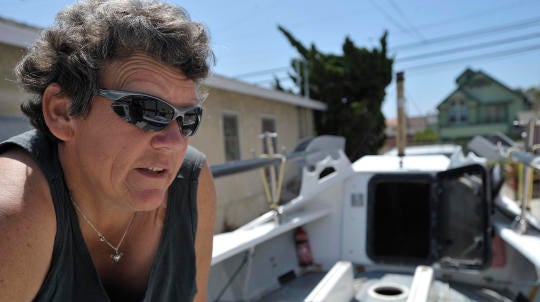 Paralympian rower Angela Madsen died during a solo attempt to row across the Pacific Ocean
Saints' Malcolm Jenkins is not comfortable playing the 2020 NFL season due to coronavirus concerns and believes that, "we have to understand that football is a non-essential business"
Take a look at the breakdown of the confusing and complicated NHL Draft Lottery ahead of Phase 1 the event tonight
Amazon bought the naming rights to Seattle's NHL arena and is calling it Climate Pledge Arena
 

PGA Tour on CBS

 

NWSL Challenge Cup

Stream the 2020 Travelers Championship this Saturday and Sunday at 3:00 PM ET for free on CBSSports.com and the CBS Sports App!
Learn More


 

The National Women's Soccer League will become the first American professional team sports league to get back to action this weekend, with the 2020 Challenge Cup. Stream every game of the tournament live with CBS All Access.
Learn More

| | | | |
| --- | --- | --- | --- |
| FOLLOW CBS SPORTS | | | |